An LA Kind of Evening
Ning Network Spotlight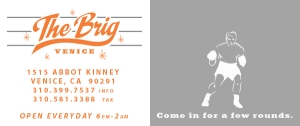 In an attempt to add some flair to this post, I realize I may be doing an injustice to Los Angeles.
If tonight was in fact "an LA kind of evening" it would suggest a typical evening in LA consists of sitting at your desk surrounded by poor lighting typing on your computer.
On the flipside, my evening probably isn't too much of a stretch from the fate of every recent Harvard graduate trying to break into the entertainment business.
But I digress.
I started this post with the intent of highlighting two really nice, simple Los Angeles-based apps definitely a worth a look, especially if you are planning an evening out in the 213, 818, or 310 area codes:
LA Eats with Maps has a nice, growing set of restaurant reviews emerging here. If you live in LA, this might be the place to sink down some reviews of your favorite spots.
Los Angeles Nightlifer is a clone of Nightlifer, it has a small but blossoming set of users and bars added, including two Venice institutions recently contributed by yours truly. The truth is that I only know two mediocre bars in LA. I wouldn't mind having a few apps that at least let's me talk a bigger game.