Ok, I am excited
Ning News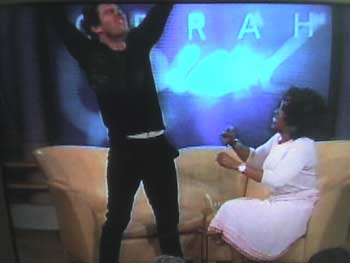 We're talking Tom Cruise-on-Oprah excited. We've decided our little experiment is ready for prime-time. If you are reading this, you might be one of the five people who care about this fact.
We've been working on Ning for a little while now, but this past month has given me a newfound appreciation for IRC, Paxti's Pizza, Red Bull, U2's live albums, Tiny Wild Buffalo, Interns, and the Spanish language. While it might be delirium at this point, the only other time I can remember being this excited was trying to figure out who had a crush on me.
For the four out of five of you who don't know what Ning is and came here because you are related to a member of the team, we've built an online service (or Playground, as we like to call it) for building and using social applications. Social "apps" are web applications that enable people to match, transact, and communicate with other people.
With Ning, you can become a Beta Developer and build apps or just enjoy the benefits of using what other people come up with.
In either case, we are just happy you decided to check us out.