New! Anytown Marketplace – Craigslist for Cities without Craig
Your Ning Network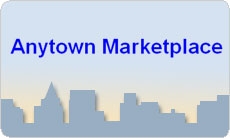 Let me say upfront that we love Craigslist. It is a fantastic service and, living in such major metropolitan areas as San Francisco and New York, we are huge fans.
We're such huge fans that we don't think it should be limited to just 204 cities when there are over 16,000 cities worldwide.
We think people in every city should have the option of creating and using a Craiglist-style marketplace.
With Anytown Marketplace, we're putting our money where our mouth is. You can now set up your own Craigslist-style marketplace for free and without any coding (as the app owner, just drag-and-drop categories where you want them, then add, edit, or delete right there on the app).
When you clone it, it retains the categories you'll find on Craigslist, but you can also add, edit, or delete categories so your new marketplace app is relevant to your area. For example, if you clone Anytown Marketplace for Capitol Hill staffers in Washington, D.C., the job categories can be for legislative assistants, not hardware engineers.
And don't let the app name fool you, you can clone and run Anytown Marketplace for any group. It doesn't have to be limited to a specific geographic area. For example, you might want to clone and run a version of Anytown Marketplace for Virginia Tech alumni (thanks, manhattanhokie!) or struggling actors in Los Angeles.
Because it's fully editable and customizable, Anytown Marketplace gives you the wonderful features Craiglist has pioneered – only now in places and/or for groups that didn't have it before.