This one is the turkey holiday, right?
General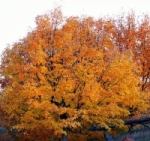 Please forgive me: being a Brit, I don't have much experience with the whole "Thanksgiving" thing.
However, I'm heading Stateside shortly, so I'd better get used to strange American customs. I'm starting with this Thanksgiving app, which lets you share the things which you are thankful for this year and converse with others about them.
In addition to my existing list I'd like to thank May for the lovely autumnal banner and colour scheme, basser for sharing the gorgeous pic you can see on the right, and robotwisdom for coming up with the idea in the first place. Have a lovely Thanksgiving, one and all!