Marketplace with Maps
Your Ning Network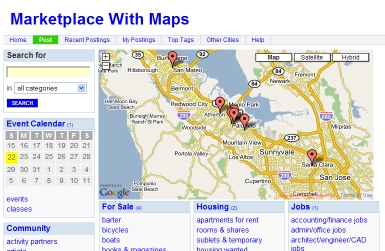 One of the many cool apps on Ning built by our own Jonathan Aquino is a Craigslist-style marketplace that anyone can clone and customize for their own group or town.
This version allows you to see listings by location on a Google Map. You can also customize all of the listings categories from right there on the front page.
If you are itching to create your very own map mash-up, this could be an interesting place to start.