Saturday Morning Car Talk: A Little eBay Motors Map Mash-Up
Developer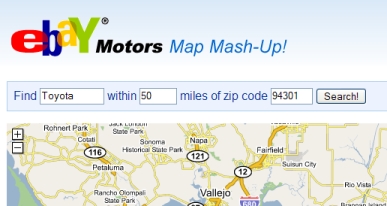 I wanted to share a little eBay/Google mash-up we created in a few hours on Ning. While it may not be an entry into eBay Developers Challenge (the deadline is Tuesday, by the way), I think that it shows off a couple of things that make us unique.
Here's what we did:
Saved a new blank app on Ning.
Dropped in the eBay PHP Pear
Signed up for an eBay Developer Account.
Added proximity searches. We wanted to search by zip code and distance from zip code. This wasn't supported by the eBay PHP Pear code, but only required us to add five strings to the code:

// Ask eBay for nearby autos for sale
$result = $ebay->GetSearchResults(array('Query' => $q,
'ProximitySearch' =>'y',
'MaxDistance' => $dist,
'PostalCode'=> $zip,
'MaxResults' => 10,
'Category' => 6001));


Formatted the display of search results using a "model class" described in this
article about eBay web services.
Overlayed a Google Map. We wanted to display our eBay Motors listings on a Google Map. We took a few lines of code from Ning's Restaurant Reviews with Maps and sprinkled them in.
Sweetened it up with some CSS to make it look pretty.
A few points to highlight other than it took us a few hours to do this and now you can have your own copy in minutes:
One click and no set up to create an app (or dedicated server space) for free.
You can use *any* external web services API on Ning. There are some we've pre-built into Ning, including Flickr, Amazon, Google, and Yahoo but you can also use the APIs from anyone who offers them. If there's no dedicated PHP module for an API you want, you can use regular PHP to make REST, XMLRPC, or SOAP requests. That's why we created the Playground in PHP and not a proprietary language.
Even great developers love a shortcut. This app is now a great starting point for more sophisticated eBay web services apps. Any developer – novice or expert – can clone this web app and do with it what they please.
It's totally open. You can choose to run your new eBay app on Ning or take it and run it on your servers. You own what you contribute and the licenses are set up so that you can take the code and run it elsewhere if you'd like.
If you happen to be looking for a car today, this might be a nice way to do it….
Enjoy the rest of your weekend!