Did We Mention the Free 60GB Video iPods We're Giving Away?
Ning News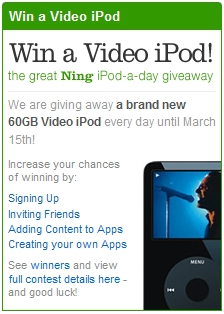 We're subtle, understated folks here at Ning. In fact, that's a little something that's gotten us into trouble in the past. As has our wit and humor, but that's another story.
So, we realized that we may not have mentioned the little fact that we are giving away a free 60GB Video iPod everyday through March 15th. You're automatically entered when you sign up for Ning, but even better, the more content you contribute to Apps on Ning, the more people you invite to check out Ning, and the more Apps you create, the more you increase your chances of winning.
Think this is one of those internet scams where someone actually doesn't win? Not so fast. You can see our winners here. Not to mention the fact that if it were a scam, you can come here to our blog and flame us and that doesn't seem so cool.