Mashups Galore!
Ning News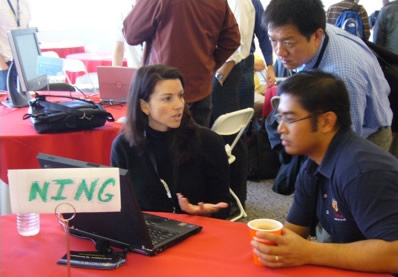 Of the things we launched last week, our new Skeleton Apps are my favorite. Not because I built them, but because they let you hit the ground running creating Apps that are known in the currently-fashionable parlance as mashups.
With this in mind, we were obviously pretty eager to take part in Mashup Camp, a two-day event showcasing the best of the mashup scene – both the mashups themselves, and the tools and APIs that can be used to build them.
Having now mostly recovered from the barrage of excellent tech, relentless demos and super-brainy geeks, I can happily congratulate the organisers on a raging success. Gina (shown demo'ing above), Mike, and I had a fantastic time, both showing off Ning Social and seeing some mind-blowingly cool projects. Based on the feedback we got, we've convinced a few more people that Ning is a great platform with which to mash together the best of the web.
A few notable highlights and thanks:
Our session on Rapid Development Platforms turned out very well; four other companies got involved, we all showed off our stuff, and had some very valuable feedback and discussion. Thanks to everyone there, in particular Zend, to whose upcoming PHP framework we've contributed some code. We'll be making the new framework available to all as soon as we can.
Tantek Çelik of Technorati spent a while showing me how we could make ReviewIt output the hReview microformat. We're fascinated by microformats and are planning on doing more work to include them in our Apps in the future.
Obviously, the most thanks go to David Berlind and Doug Gold for organising the whole thing, the Computer History Museum for hosting and everyone else who helped support it. (Oh, and extra thanks to Ryan King of Supr.c.ilio.us and Niall Kennedy of Technorati for getting me home!)
All in all, the whole thing was not only useful and informative but wonderful fun. Want to join in the next one? Best sign up now…