Ning's New Developer Section
Developer

One area of our site that got a major upgrade last week was our Developer section. Now, you don't need to be a developer to use Ning. But if you are a developer, we've created some special features just for you.
Roll special features…
Optional Developer Homepage
Flag yourself as a Developer by clicking the link near the top of the Developer page and manage your Apps with the Developer dashboard. You have a feed of our Tech Blog, 1-click access to your App Source Code, the option to search your code from here, and when you are browsing Apps on Ning, an easy link to View Source. Give it a try. If you don't like it, you can always switch back to the default homepage.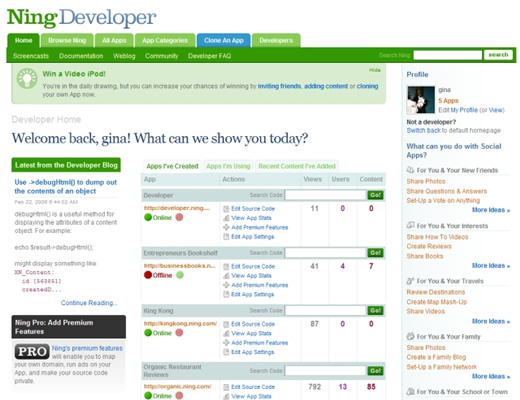 A Skimmable Overview of the Ning Platform
Here's a quick technical intro to Ning and how it works under the sheets.
Photo Sharing App Screencast
Watch a six-minute video showing how to build an App from scratch using Ning.
New Documentation
We've streamlined our Ning Documentation to be a bit more readable and easily referenceable (I think that's a word).
Premium Features
Ok, so these aren't exactly new, but when creating Apps on Ning, you can always choose the option to run your own Google or Yahoo ads, map your own domain name, hide your source code, and buy more storage and bandwidth.
And All the Stuff You Already Loved About Ning
No software downloads, no database to set up, and no sysadmin headaches.
Have a spin and let us know what else we can do to make developing on Ning even easier. We have some ideas, but would love to hear from you!