Group (Part 1)
Your Ning Network
I'd like to give a little tour of Ning's Group where you can:
Enjoy photo sharing, discussions, and an event calendar all in the same place
Customize the look
Edit the profile questions
Make it public or members only
And, as always, you can also dive right into the HTML/CSS and PHP to add features, change the layout, delete stuff, or just experiment. It's totally up to you.
To start, we offer a version of this app called Group (yeah, I know, original). The point of this app is not to add your profile, photos, events, and discussions to a generic group website, but to Clone It and create your own Group on Ning social website builder.
Here's the Group app in its generic form: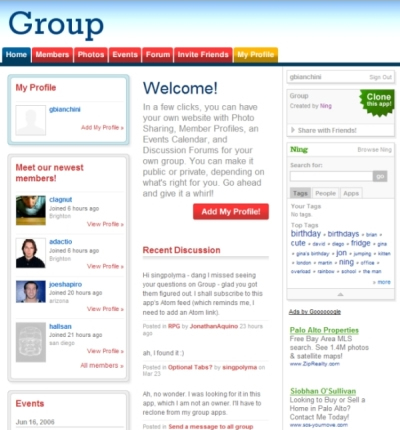 Now for the fun stuff.
I clone my own copy, Gina's Sweet Group which takes me to the set up page where I can choose my colors, add an image to the header, and tell people on the homepage what my group is all about.
Next, I decide I want to make my group private and create my own profile questions, which I can do right here on the same page:
The end result? Well, one very spectacular Gina's Sweet Group website, of course!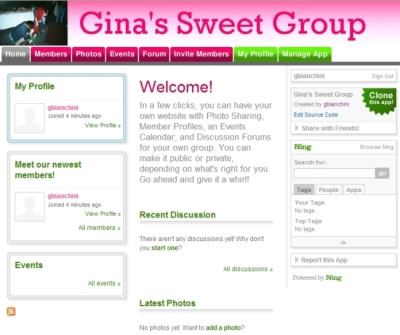 I would have called it Gina's Sweetass Group but this is a family blog.