CCHits: The latest and greatest music from the Creative Commons
Ning Network Spotlight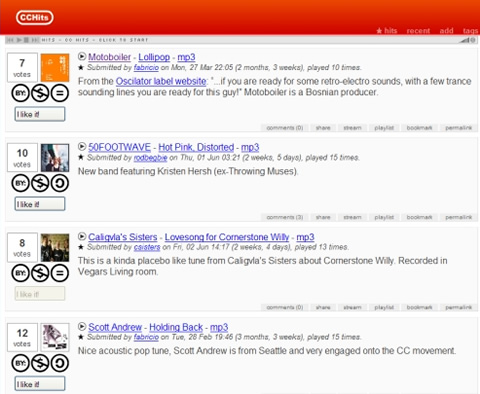 If you're used to checking out new music on the web, you'll know that there's tons of free and unrestricted music available for download under Creative Commons licenses. However,
it can still be tough to find the really good stuff. That's where CCHits comes in.
Fabricio Zuardi's latest production is probably the most ambitious user-created App-from-scratch that we've yet seen. The front page lists details of the latest tracks, with a Flash-based player for each one, album art and license icons.
You can listen to, comment and vote on listed tracks (using the "I like it!" button), then submit new ones. Those amassing the highest scores are listed on the Hits page. (Digg users should feel particularly at home with the interface.)
Trouble is, this brief overview doesn't nearly do justice to the work behind this App. It's jam-packed with features:
The circular play button next to each track title is a mini Flash music player – click it and you can listen to the whole song.
Want to listen to everything on the current page? Either use the long player bar at the top or click "m3u" on the top-right to download a playlist. (You can also add tunes to Webjay with the "playlist" button)
Fabricio's made good use of Ning's tagging features: the Tags page lets you browse by genre. (Remember to tag appropriately when you're adding a tune!)
RSS feeds are available for every page, including tag listings, so it's easy to get a constant feed of your favorite genres.
The user profile features are fantastic. Click the "me" link at the top of the page and you can set your user picture and message, along with choosing your preferred language and bookmarking service.
Similarly, clicking any username in the App shows you what that user has added and voted for – so if you find yourself agreeing with someone else's taste, you can see what else they like.
CCHits is really suited to cloning, if you fancy forming your own music-blogging community. As ever, just hit "Clone this app!" in the sidebar.
Finally, the whole thing's topped off with some deliciously-slick styling. Gorgeous!
We'd like to congratulate Fabricio on a fantastic piece of work. If you're interested to know more about him, his work and why he chose to build CCHits on Ning, keep watching: I'll be interviewing him for this blog very soon. In the meantime, dive in for some great free music!