A Chat with Fabricio Zuardi, Creator of CCHits
People Profiles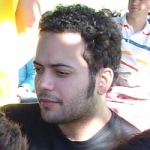 We knew CCHits was going to be popular, but didn't think it'd happen quite this fast. Since we announced the user-driven hub gathering the latest and greatest Creative Commons-licensed music – which, by my watch, was a mere two weeks ago – the site's notched up over 200 inbound links from blogs, including mentions on Boing Boing and Lifehacker.
Back in February we asked our readers what they'd like to see us cover on this blog, and one of the better suggestions was "some interviews with the developers of the most popular Ning apps". So, while CCHits was being launched, I fired off a bunch of questions to its creator, the multi-talented Fabricio Zuardi. In between uploading great tracks, fixing bugs, blogging and giving an in-the-trenches view of our REST API, he somehow found the time to provide these answers.
(Incidentally, if you'd like a nice soundtrack while reading the interview, I highly recommend either my favorite track on CCHits so far – The Celebrity Pilots' We've Lost Kasparov – or my favorite track title – Goodbye The Band's Show Me A Woman Whose Favorite Director Is Werner Herzog And I'll Show You A Man Who's Married To Her (That Man Is Werner Herzog))
So, who and where is Fabricio Zuardi?
I am a regular web geek. I do freelance jobs for a living and I am currently based in the nice city of São Carlos, São Paulo, Brazil, which is a calm little place with a good tech atmosphere (by Brazilian standards at least)
You've been building cool stuff on Ning (such as Avatar and Concer.ning) since we our first public release back in October. What is it that drew you to the Playground?
After reading this post by Lucas Gonze about Ning last year, I realized that something big was happening and although the sample apps at that time were not so exciting, the potential of having a shared host for open apps with the possibility of interoperation between them and a set of built-in components drew me.
Here at Ning we're big fans of the Creative Commons – all public content
added by users is put under a CC licence. Is the alternative-copyright
movement something you're interested in?
Sure, I am also a big fan of the Creative Commons initiative. Traditional copyright is important and has its place in the economy and intellectual property law, but there is a whole set of works that can be better explored having a license that gives customers more freedom and I am happy that models to fill this gap exist. It would be difficult to
live on a DRM world without these alternatives.
I'm guessing you'll be adding a fair amount of music to CCHits – what
flavors are your favourites?
I currently maintain a music podcast with other 3 friends at hideout.com.br where we post 30min sets of music links, mostly alt/modern rock, indie, punk and a some electronic sounds.
On CCHits people can expect these kind of contributions from me, especially
new artists from net-based labels, but I hope that the mass of CCHits
contributors becomes huge so it can reach the widest range of musical tastes.
There'll be quite a few people who'll want to become active contributors to CCHits – where would you recommend they start looking for new CC-licensed music?
A good starting point are the CC wiki pages for content curators and music podcasts. There are also a growing number of netlabels and online communities each one covering specific genres, from experimental to classic; with a little searching it's easy to find one that matches your preferred style.
Also, asking your favourite artist to release some tracks using a CC music license normally works with bands that are friendly and willing to promote their work for a large audience.
Most of the 14,000 apps hosted on Ning are clones of our sample apps, but CCHits is built from scratch. What advice would you give to those wanting to build new projects on Ning?
The basic ones, I guess: read the documentation, hack the sources, share your ideas, use the IRC channel, experiment, start over sometimes, enjoy the Playground!
Which features of the Ning platform did you find most useful for CCHits?
CCHits was my first project using the Smarty template engine. It was very handy to build basic internationalization support and straightforward to learn the basics with this tutorial. Ning's ready-to-use Roles system was great for me and also the other core components like Comments, Tags and user authentication saved me time that I spent on new ideas and customization.
Oh yes… and the backup/restore feature. Kick ass!
One of the coolest features of CCHits is being able to play individual
tracks in the page – or all of them – with a single click on the Flash
music player widget. What most people don't know is that you wrote that
widget long before you started CCHits! Do you do a lot of work in Flash?
Yes, I have worked for a long time producing web games and other flash-related stuff. I still get many jobs in this area.
The XSPF flash music player open source project started in the beginning of 2005 to fill my personal need for a web player for the Hideout website and as a contribution for the xspf playlist format community. As is common in the free software world (the player uses a BSD license) the player got many users and supporters, became popular and now has some great forks with different enhancements and customizations.
I hope that CCHits follows this same path and becomes not only a good source of quality shareable music tracks, but also be cloned and customized to be used as base for podcasts, artists showcases, local music scene blogs and other possibilities that I can't even think 🙂
Now that CCHits is launched, are there still major features you want to add to it, or are you happy to let it grow for a while under its own steam?
There are a couple of new features to be released in the following weeks, and the fact that it went public didn't mean that we are out of beta, I just didn't put the flag along with the name because I assume that it is the default nowadays 🙂 My current priority for CCHits is to add more moderation tools and improve documentation.
The mailing list used in the closed beta will continue to be used for announces features/bugs discussions and related issues on this new stage, everyone is welcome to participate.
Are there any other cool projects that you're working on?
Yes 🙂
I guess we'll just have to wait to see what they are – if they're even half as good as CCHits, I know I won't be disappointed. Thanks very much for your time, Fabricio, and good luck with CCHits and all your future projects!