A Chat with the "Amy's Robot" Team
People Profiles
Since 2002, Amy's Robot has been essential reading for those in the know. The blog provides a compelling stream of news, celebrity gossip and political opinion, addictively flavored with their own brand of wit and snark. They've now expanded their efforts into a number of single-topic blogs such as ScaryNY, Bad Love and The Ledger.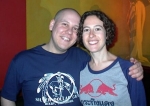 ADM and Amy
Alongside, there's a barrage of web links compiled using Linkit, their social linkblogging service descended from our own Bookmarks. Linkit is not only one of the oldest Ning apps, it's consistently one of the most popular – yet more proof of Amy's Robot's ever-expanding fanbase. The team behind it, however, are fairly reclusive in the face of internet fame; so I'm proud to have coaxed them into discussing their various blogs, favorite celebs, and the secrets of their success…
Who and where are the team behind Amy's Robot, and how did you guys get together?
Amy's Robot is written by Amy, Emily, and Alan ("ADM"). We all live and work in New York City. Amy and Emily met in the 7th grade, and Amy and Alan met in college and, after a rocky start, became friends. We all have pretty similar tastes and senses of humor, so it made sense to work on the site together.
Amy and Alan started the site back in March 2002 after deciding we wanted to write about everything we were watching, reading and listening to. Pretty quickly, we expanded to to include stuff going on outside of our apartments, such as celebrities and politics. In 2004, ADM was really busy with work and other projects, so he began posting less frequently and shifted his focus to behind-the-scenes matters and launching our other sites. We talked to some people we knew who could write and were funny, and we asked Emily to come on board.
What's taking up most of your watching and listening time this summer?
Movies, movies, movies. And TV. ADM loves the NYC government channels, Emily loves Meerkat Manor (the Dynasty of Animal Planet), and Amy just misses Arrested Development, which we tried, but failed, to save. Justin Timberlake says his new album is going to be a cross between David Bowie and David Byrne, so we can't wait to see how that goes, obviously.
Have your tastes for blog topics changed or been refined over the past four years?
When we first started, we were getting noticed for our coverage of celebrity gossip. At the time, there weren't many other blogs that were commenting on that stuff and aggregating it in the same way we were. But as more and more blogs came onto the scene, we began to concentrate less on that and more on providing things that people couldn't get from these other sites.
Gossip is fun and funny, and we still love it, but we didn't want to give the impression that Amy's Robot was only about that. So we put an emphasis on sharing our perspective on the things we have strong opinions about, things that often were not widely covered elsewhere. We really try to say something that isn't already being said on every other blog, or at least to say it in a different, funnier way.
Celeb stories still make up a big chunk of Amy's Robot posts, and you do them with a hysterically snarky tone. So, which are the celebs who you're most likely to run any available stories on, because you just can't look away?
Robert Downey, Jr. His "I like the taste of gun metal" quote is the best thing ever said by any celebrity ever.
Natasha Lyonne. Her quote after a DUI accident was almost as good as it gets: "I'm a movie star. Can I talk to my entertainment lawyer?" She is probably the only celebrity to have appeared on both Amy's Robot and ScaryNY multiple times.
Vincent Gallo. Crazy in a hilarious, scorched-earth kind of way.
Although we laugh every time these people do something strange, we have affection for them, and want them to succeed both professionally and psychiatrically.
How about those who everyone else loves to hate, but you not-so-secretly love to love?
Ok, here's a good one: we can't stand her as a person and never write about her any more, but Paris Hilton really isn't that bad an actor. We haven't seen House of Wax, so we can't be sure, but if you go back and watch, for example, the episode of Saturday Night Live that she hosted, she's really pretty good. We are even almost ready to admit that her new single, "Stars are Blind," is a little catchy.
From the many rotten fruits of celebrity "I've got an album in me and it's just gotta come out" syndrome, which are your favorites for demonstrating the folly of the enterprise? And which, actually, aren't that bad?
The greatest ever example of hubris in this regard was when Jennifer Lopez said of Madonna, "Do I think she's a great actress? No. Acting is what I do, so I'm harder on people when they say, 'Oh, I can do that – I can act.' I'm like, 'Hey, don't spit on my craft." Shortly thereafter, J. Lo made some of the most teeth-gnashingly bad pop songs of our era. And of course, at the Grammys last year, the world learned with certainty how incredibly terrible her singing voice is when not remixed by robots and swallowed whole by Timbaland beats.
William Shatner's albums, on the other hand, kick ass.
Any hot tips for the autumn?
We're interested in how these congressional elections turn out, how Jack Bauer is going to get out of that Chinese prison camp (and what non-existent technology he'll use to do it), and which celebrity baby will be the first to have its own MySpace profile. We suspect Fox News will play a role in all of these.
You guys have spun off several blogs dedicated to specific topics such as Law & Order, danger in New York City and fun technology hacks. How often do you find yourselves starting new blogs in this way?
We really just consider two things: (a) are we interested in it, and (b) are other people interested in it? Apart from Amy's Robot, all of our blogs are focused on a single topic, and we like it that way. We like the idea of creating sites for communities (large and small) and having the sites evolve and become a part of that community.
Community building is a huge part of what we do, and Ning has helped us immensely with that. Linkit and our other apps let the users actively participate in and shape the community by submitting links, voting in our surveys and quizzes, and so on. Ning has made it much easier for us to interact with our readers in this way. We're looking forward to developing more ways to do this, so that eventually we will not think of the people reading our blogs as "our readers" but as "our community."
One thing we've noticed over the years is that the amount of feedback we get from our readers is dramatically reduced by every barrier to entry. For instance, when spam started getting out of control on Linkit, we started requiring an email address, and submissions went down. This is a problem — not just for us — that desperately needs solving. We're hoping that we can eventually use Ning as a "single sign on" for all of our authentication needs, so that when people join the Ning community they are indirectly joining ours, and that barrier to entry will be reduced.
Are there any other topics to which you're thinking of dedicating a blog?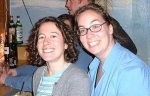 Amy and Emily
We're planning to launch two new sites in the fall. One of these will be music-related, and will cover album releases, shows, etc. We have some very knowledgeable and unpretentious writers in mind for that who we think will offer something different. We're also launching another NYC-related blog that will focus on a particular aspect of life in the city. We are still looking for additional writers for these sites, so if anyone who has been out there blogging/writing for a while is interested in working with us, we'd love to hear from them.
The Linkit Ning App is actually the second incarnation of your linkblogging system – what prompted the new version, and why did you choose Ning Bookmarks for it?
We first launched our links app, then called "Amy's Robot Link Factory" in June 2003, built from scratch in PHP and MySQL. Although the Link Factory's initial purpose was just to help manage incoming links, we soon realized it had the potential to be much more than that: with a little adjustment, we could let our users manage and share their own links, irrespective of the app's connection to Amy's Robot, and that we could build a real community around the service.
We iteratively worked in some account management features, and once it became a truly standalone service, we renamed the app "Linkit."
At the same time, we talked to some bloggers, some of whom already had link blogs (or sidebars), and some who didn't, and got them using Linkit to power their link blogs. That was a real turning point for us in our thinking about our network of sites — our "readers" were becoming "users," and that's a powerful thing.
Eventually, as we began work on "Linkit 2.0," we realized there was a lot of work to be done. We were proud of our little app, but it was still a a bit buggy and we wanted to build in more features. We wanted a stable, secure, low-hassle, low-maintenance environment for our users and for us. Unfortunately, ADM was still busy with work, and didn't have a lot of time to dedicate to it.
And then Ning launched.
That very day, we talked about porting Linkit to Ning. Then we discovered that Ning, with its Bookmarks app, had already done that for us. We fired our rifles into the air in jubilation; in five minutes, we had a working application. It is impossible to overstate how much much of a relief this was for old ADM. From there, we just found the time to make a few customizations and add a couple of features. We've been happy ever since.
With Ning, we were able to do in minutes or hours what would have taken us days or weeks on our own. Rather than spend time worrying about all the details of application development, we could focus on just those few things we needed to change. And because of the Ning developer community, whenever we had a question about our own app, we could just ask in the forums. Ning's developer support — particularly what we got from you and Phil McCluskey — has been really helpful in resolving the few issues we've run into, and that support made us feel much less like we're on our own and more like we are a part of a community — which, fittingly, is the whole purpose of Linkit and our other apps.
That's very kind of you to say so! Given the amazing stuff this community produces, we're honored to be able to help.
Do you have any plans for new blogs and apps, Ning-based or otherwise?
Based on our success with Linkit, we are looking at porting all the other mini-applications we've developed on our own in the last few years. We've got our famous, often-imitated "Who's Older?" and "Who'Dat?" celebrity guessing games, and a few betting pools, such as RummyPool and our Election Predictor. We're eager to get these into Ning so that we can share them with our readers, reach a new audience, and make them available to other bloggers who might want to "get their own" and customize them. We'd like to share them with as many people as possible and Ning will make this a lot easier to do.
We also have a few ideas for some entirely new apps we'd like to build on Ning. We've already started working on one that will be a customized version of your This Or That app with a few twists. When we get the time, we're planning to build a kind of community travel site that, as far as we know, will be unlike anything else that is out there.
Before Ning, there is no way we would have had time to even think about building these apps, much less actually build them. But since Ning provides so much in the way of pre-built components and support, we've realized that we can think big again.
That sounds fantastic – I'm really glad Ning's been able to help you in this way, and I'm eagerly looking forward to seeing the new stuff. Amy, ADM and Emily, thanks very much for the chat, and for bringing so much cool stuff to the Ning community!