Sending Messages, Importing Contacts
Your Ning Network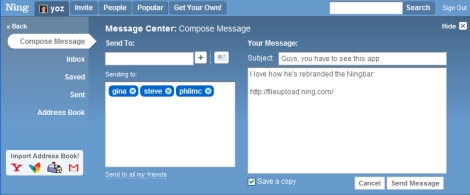 You've probably already looked at the Message Center in your user panel – that's the one labeled with your username and icon. It's basically a mailbox, and we figure that you already know how to use one of those.
You can send any Ning user a message through the "Send a Message" link on their profile, or by clicking the little envelope you'll sometimes see on the right of their user icon.
One of the advantages here is that you don't need to know a user's email address to contact them. This is particularly useful when it comes to communication between the owners and users of Ning Apps. By clicking on the "Popular" tab you can not only see who owns the current App but send them a message right there. And if you're an App owner, you easily chat with any of your users and even send a broadcast message to all of them (from the "Manage" tab).

This is a super-speedy way to invite a large number of people into your contact list, which makes it easier to send them App invites or add them as friends. Click "Import Addresses" in your Message Center, and you'll see the interface above. In a few seconds you can pull in all the contacts from your webmail account. (Don't worry: the process doesn't automatically send anything to those contacts, and we don't store your webmail password anywhere.)
Once the contacts have been imported, you can browse the list and see which people have Ning accounts already, so it's even smoother to add them as friends.
The interfaces shown above are available in any App that sports the Ningbar. If you're a developer and want more control, both the sending of messages and the importing of contacts can be done programmatically through our REST API, using the new JSON operations. Ease of use and 100% programmability – that's us!