The Ningbar – a Swiss Army Lightsaber for Your Apps
Technology
So you're looking at our whizzy new Ningbar and the new friends list features and all the other fun stuff, and you're thinking, "Well, that's all very lovely, but how's this thing going to help me create and run my Apps? And more importantly, what if I want it to just go away?"
If you want the Ningbar gone, it's gone. But it's so useful to App owners, you'll probably want to keep it around. Let me explain…

We've put a whole load of work into making the experience of creating and maintaining your App as smooth and easy as possible. As an example, check out the Get Your Own! button – the new interface to App cloning. (You'll see it in Apps that aren't yours.) When you find an App you really like and say, "I want one of those," it's now smoother than ever to get one for yourself.
Thanks to this button, the process of naming, customizing and running your own Apps is wonderfully hassle-free and even more fun to play with.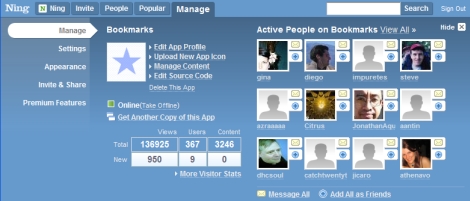 Now you've got your App, it's running and people are using it; how does the Ningbar help you now? Check out the Manage panel. From the first click you've got an instant view of your App stats and a bunch of your App's busiest users – plus, you can send a broadcast message in a couple of clicks. If you dive into the "Appearance" section you can play with your App's color scheme and tweak it until it's just right. You can also jump to your App's settings and to the content manager, which has been neatened up and made snappier.
And that's just the stuff you get by default. You want to chop up the Ningbar, add your own custom panels and tweak the search? Be my guest. And don't forget all the nifty features it gives your users – letting them sign in, make new friends from interactions in your App, check their messages and more. Like I said, you can get rid of the whole thing if you like – but why would you want to?