Walk It Like Ye Talk It!
Ning Network Spotlight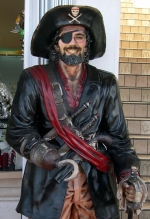 As Talk Like A Pirate Day draws to a close, we're all parlayed out. I've avasted myself into exhaustion, and I've no arrrs left for any sailor. Besides, there's a big difference between just talking like a pirate and living like one. Where can a salty dog get some excitement?
For those of us who want to take baby steps toward swashbuckling, our own Jon Aquino has produced the delightful Make Your Own Adventure. He describes it as "an interactive, collaborative novella in the form of a social web app." In other words, it's a adventure story in which everyone can not only explore, but contribute as well. His supplied example features a creaky ship in treacherous waters – perfect for the day!
Even better, the app's designed to be cloned; if you fancy starting a new story from scratch (about, say, pirates in space!) just hit the Get Your Own! tab in the Ningbar. If you spin a particularly fine yarn or want some assistance with a work in progress, share it in the comments of this post. We can't promise that everyone will keep your story on tack, but it's bound to take some interesting directions…
Get your social network done by Ning.