The Class
Ning Network Spotlight
I'm a sucker for Jason Ritter. Maybe it's growing up on Three's Company. Anyways, CBS just launched another video site on Ning, this time for it's show, The Class.
Not only can you watch some clips from the show, but you can add your own videos too.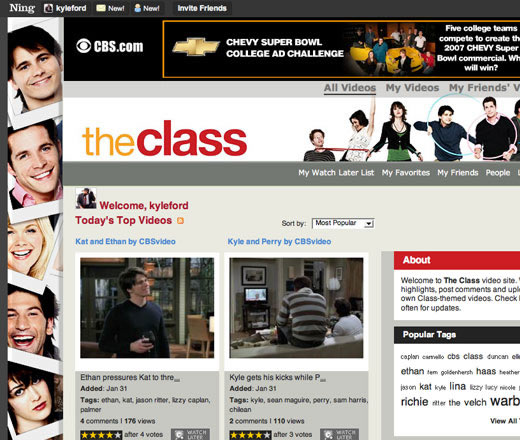 So, how would you get your own video sharing site like this one? Easy!
It's free and only requires a couple of quick steps:
Go to the top of http://videos.ning.com. Click on the button, "Get Your Own Video Site!"
Decide what you want your new video site to be called and what you'd like the web address or URL to be.
That's it. You've now got your own video sharing site like YouTube for free in a few seconds.
You can change your new video site's colors, make it public or private, and add videos from your new site to any blog or MySpace page. Your new video player will be branded for your new video site automatically.
Here's the video player for The Class:
See that The Class link? It takes you back to The Class video site. Plus, you can also replace that text there with a logo if you'd like.
Cool, eh?