We Love Capitalism
Ning's Tips and Tricks
Your Ning Network
In one of those interesting friend-of-a-friend's-mom email forwardings, today we heard about a web development firm that was charging someone's mom $5,000 to "add" a discussion forum and profiles onto her social network on Ning.
This might seem like a reasonable sum of money to pay a development firm to build these features except Ning offers for free a discussion forum and profiles that you can add and customize yourself. No need to hire someone to do build you one when it is already there…and already free.
We love capitalism and there are plenty of ways to make money on your own social network on Ning. Ripping off people's moms doesn't even have to be one of them.
Here are a few ways you can make money as the fabulous host or hostess of your social network on Ning:
Ask for Donations
We think this is a great idea and something you can do for free with little effort. Just add a PayPal Donate Now button into a text box on your social network's homepage.
Directions to the PayPal Donate Now button are here. To add a text box to your social network's homepage, go to your Features page, drag the text box from the left hand column and place it where you want it on your network's homepage. Then copy the code from PayPal and paste it in the box. Your Donate Now button should show up in the text and connect people right on through to PayPal. Easy as pie.
Run your own Google AdSense Ads
This is the second easiest way to make money on your social network. Choose our premium service and for $19.95 swap out our ads with your own Google Adsense ads.
To set up running your own ads on your social network, create your own social network and from the Manage page of your social network, follow the Premium Services link here:

On the Premium Services page, choose the option to "Run your own Ads" and follow the instructions there. It should be pretty straightforward as long as you've set up your account with Google AdSense: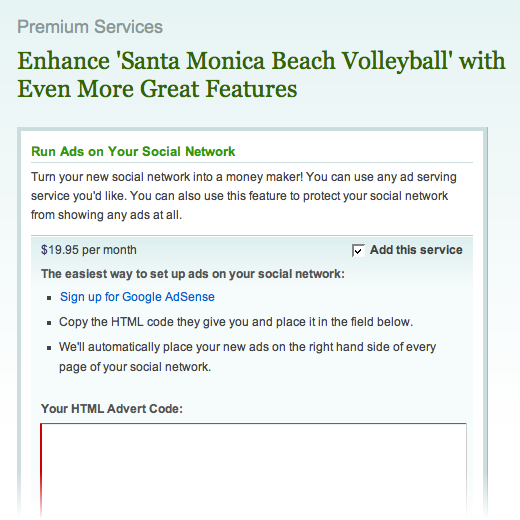 Create a Subscription-Only Network
Easy Way – No Code
Now, this requires some email exchanges, but no hacking:
Make your network private. Note: you can only choose to make your network private or public when you set it up and can't switch between the two. We know, it's a pain, but we'll be adding the ability to switch between public and private in the next few months.
When you set up your network, choose the option on the Privacy & Members page to enable visitors to request an invitation from you. For this to work, you also might want to uncheck the option to have members invite new members as then they would bypass this payment checkpoint. Your Privacy & Members page should look like this:

When people request an invitation, let them know that there is a subscription for your network and ask them for payment at that point. Now, they might not give it to you because the whole thing looks sketchy and I wouldn't blame them for being cautious. However, if you know them already or it is a really specialized group, this should be a nice "value-add." Yup – that's free business jargon brought to you courtesy of the Stanford Graduate School of Business. But I digress…
Less Easy Way – Requires Code
The other, less sketchy way to create your subscription social network is to request a copy of your social network's code from developer(at)ning(dot)com and hook the PayPal's Buy Now button into granting them an invitation. I'll see if I can get one of our hardworking developers to take a break and let you all know where to actually add the button in the file system of your code base. This is definitely only a path for the technical among you.
Sell Cold, Hard Goods
Now, we don't have a store yet to offer you on your social network, but why not set up a Yahoo Store, create a T-Shirt or Mug on Cafe Press or Zazzle, and then use your HTML Text Box to promote it? It's completely free on Ning.
UPDATE: After posting this, I learned that Zazzle has created a Flash widget when you create a Zazzel store. You can create a store at Zazzle and then copy and paste the HTML code for the Zazzle Panel into your HTML Text Box on your social network.
To create a Zazzle Store and associated Zazzel Panel widget, here's the wizard.
And here's an example:
In summary and in conclusion….
There are lots of ways to earn some extra cash with your own social network. All you need is a great idea, a little creativity, and the ability to copy and paste.