Introducing Groups!
Updates

Groups are now available for your network! So is French. Plus a few other things you've asked us for that we're incredibly happy to deliver. We like you liking us.
Our second screencast will serve as a quick guide to Groups and to these other new features. You can watch it here or view a full screen version as well.
More details after the jump….
Groups!
Groups give you and your members the opportunity to organize communities within your network. This gives you the ability to offer more and more ways for your members to connect and communicate. We've heard Groups requested from film communities, class reunion networks, church networks, artist networks, school networks, and every network in between.
How do I add Groups?
Simple. Choose the new Groups feature on your Features page by dragging the "Groups" icon onto your Main page preview. Save your changes and head back to the Main page. You'll see the new Groups feature wherever you placed it on the preview. There will be a Groups tab as well.
To get to the Features page, click the "Manage Your Network" link on the right hand column of your network.
Now that you've enabled Groups, adding a Group is easy. Each Group on your network has:
Group name
Group description
Group member list
Group external URL link (in case you have a MySpace page or a Group website off your network)
Group HTML text box for widgets and text
Group Forum
Ability to make your Group available to anyone or members only
Group invitations, member and invitation management, banning, and the option to add Group Administrators
Broadcast messages from the Group Creator or Group Admins to the Group's members.
We'll also be adding the options to have "secret" Groups, enable Group Members to send broadcast messages to all Members, as well as more features for the Group Forum – such as categories – in the coming weeks.
A couple of things to note about Groups:
Just like on your network, once you choose the privacy setting for your Group – anyone or members only – you can't change it. This is also true for the URL that you choose for your Group. Like the privacy setting on your network, we'll be offering switching between private (members only) and public (anyone) soon.
On your social network's Main page, you have a number of sorting and display options for showing off the Groups on your network. You can choose the number of Groups you want to display and whether you want to display Most Recent Groups, Groups with the Most Members, or Featured Groups.
The Group Forum has no association with the main network's Discussion Forum. That's to keep each Group a tight knit community. Group Forums also don't have categories yet. We'll be adding them shortly.
As the Group Creator, you can add Group Administrators, manage invitations, and ban people from your Group just like you can do as a Network Creator on your social network generally. Just follow the instructions from the "Manage Group Members" link.
Group Administrators have the same powers you do as the Group Creator, with the exception of being able to grant administrative privileges or delete the Group.
As the Network Creator or Network Administrator, you can delete any Group on your network. You also have the power to see inside a private Group to preserve your control and moderation over your network. To become a member of a private Group and contribute, however, you'll need to request an invitation.
The Chatterwall is now the Comment Wall
By popular demand, we've changed the name of the Chatterwall to Comment Wall. We've also added a few links to the Comment Wall so that it's even easier to use. Under comments posted on your member page, you have the options to: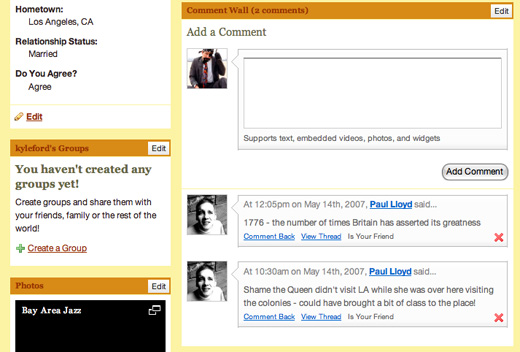 Add a comment directly on your member page as you could before.
Click on the new "Comment Back" link to leave a comment on the person's member page.
Click the "View Thread" link to see a conversation-style view that lists all of the comments that you and the other person have left each other on your respective member pages. This won't show the comments that you've left someone on your page, but you can quickly see the general thread between the two pages as they relate to you.
Add an Image to Any Text Box
You can now quickly and easily add a photo or image within any text box across your network.
When you click the Add an Image icon, you're presented with a popup that lets you choose to upload an image from your computer OR paste in an image from an existing URL. This second option is handy if you have your photos on a Flickr page or use Photobucket.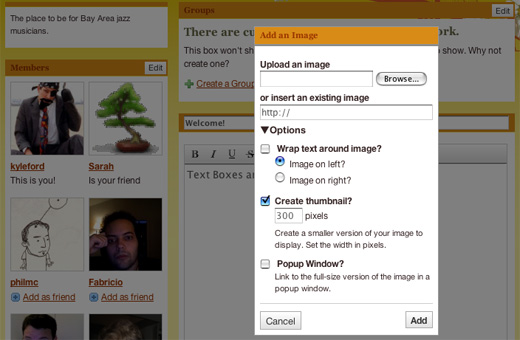 You'll also see that you have a number of additional options for images. You can choose to wrap text left or right around your image, You can choose to manually resize your image as a thumbnail, or you can choose to link to the full-size version of the image in a popup window.
The new Add an Image feature is present in every text editor across your network, including Discussion Forums.
French
Last, but certainly not least, we now offer your own social network on Ning in French.
Enjoy!