Taking Care of Our Network Creators
Updates

For this release, we've chosen to hook Network Creators up with some new features designed to make your life easier and your network more flexible. We thought you deserved it.
So, take off your shoes, put up your feet, and let us show you what you've got:
You can now easily add multiple administrators to your network. They can take things off your shoulders for awhile. Remember you're relaxing.
You've also now got more ways to display features (people, videos, photos, discussions, and blog posts) on your Main page. You even have the option not to show a feature on your Main page while still keeping it as a tab up top.
There's a better, simpler way to manage members, invitations, and requested invites. This will let you see who's been invited to your network, who wants to be invited to your network, and who's enjoying your network right now. Ok, not literally this moment, but that's coming soon too.
It's now drop down easy to choose between English, Portuguese, or Spanish for your network from your Network Information page. Our inaugural languages may or may not be the result of languages spoken here at Ning Headquarters. We're not saying.
For a detailed walkthrough of what's in this new release, join Kyle for a quick 8-minute screencast.
A few more details after the jump…
Choose your Language
From the Network Information page, which is the first page when you create a network, you can now choose from a set of languages, which today are English, Portuguese, and Spanish.
We'll be adding new languages in the coming weeks and you can always translate your network into any language you'd like.
Display Options on the Main Page
For any feature you choose when you set up your network, you now have more display options for them on your Main page.
Explore your options by going to your Main page and clicking on any of the Edit buttons you see in the upper right hand corner of the module. When you open the Edit link, you'll see a set of choices both for how many items you display and how you want to sort them: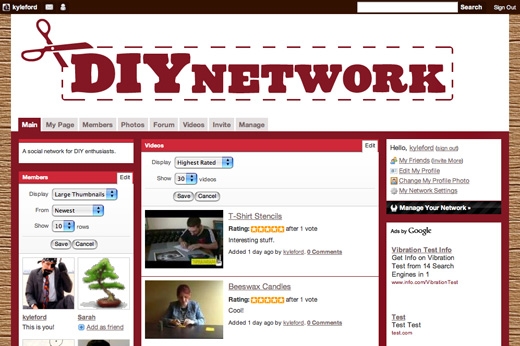 Using these options, you could now have a video contest and display highest rated videos on your network's homepage.
You can now also choose to show only certain features on your Main page while still offering the feature on your network. Just set the number of items in the feature you want to hide to 0 and it will disappear on your members' view. It will still be preserved as a tab, but you can otherwise take it off off the page.
Network Administrators
You can now make someone a network administrator from the new Members page accessible from the Manage your Network link on the right hand column of any page of your network. Just highlight them and click Add as Administrator here:
When you make someone a network administrator, they can do just about everything you can. This includes:
Changing the Main page display options
Changing features
Changing the appearance of your network
Updating profile questions
Approving new members if you are on a private network
Sending broadcast messages to your members
Moderating photos and videos
Deleting or banning members
Deleting offensive content
The only things that a network administrator can't do, which we think you'll appreciate, are:
Change your Network Information page
Add or remove premium services
View statistics
Take the network offline
Delete the network
Add or delete other administrators
To add an administrator, first make sure that they are a member. Then check their name and click Add as Administrator. You can always remove them later.
And those are the new features that we've added this week. We'll have more next week for your social networking pleasure.
In the meantime, please don't hesitate to visit Network Creators for questions, comments, feedback, or to meet us or other Network Creators.