House of Kyle: A Blog's Life
Ning Network Spotlight
Ning's Tips and Tricks
People Profiles
I feel a little like Forrest Gump stumbling through history, but here's an illustrated timeline of my personal website, House of Kyle:
Handmade HTML (Early/Mid-1990s)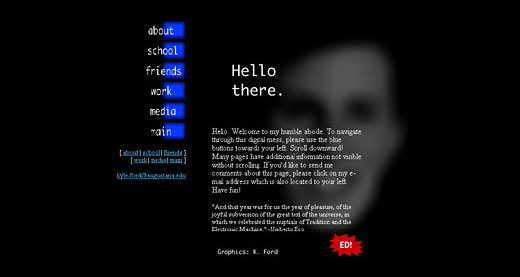 Inspired by Mosaic (wink), I did a series of personal experiments writing basic HTML by hand. Aside from a "Contact Me" link at the bottom, the first House of Kyle was very much a one-way street. I posted. End of story.
In hindsight, it's fairly horrifying, but my restraint in the lack of an animated .gif mailbox is commendable.
WYSIWYG Software (Mid/Late-1990s)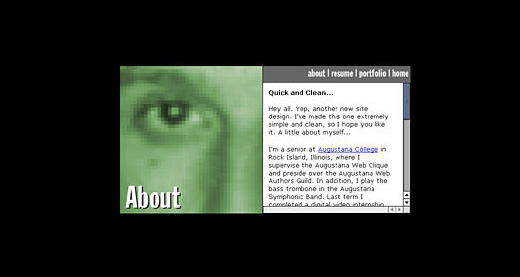 Created with the help of some early WYSIWYG tools like FrontPage (shudder), this was a little more elegant for the time. At this point, the "Contact Me" has morphed into a contact form, but that was still the extent of reader involvement on House of Kyle.
Rise of the Blogger (Early/Mid-2000s)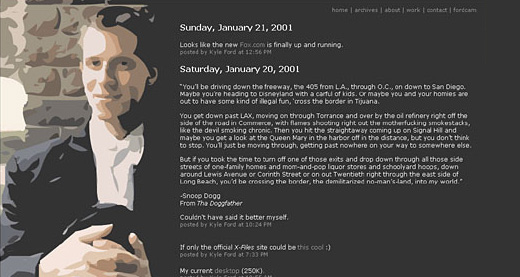 The rise of blogging tools like Blogger and TypePad motivates me to create House of Kyle as a blog. Via comments, my readers are now a nascent community, adding their witty banter and responses via comments. This is my first real two-way conversation. I'm hooked.
My Own Social Network for Me (2007)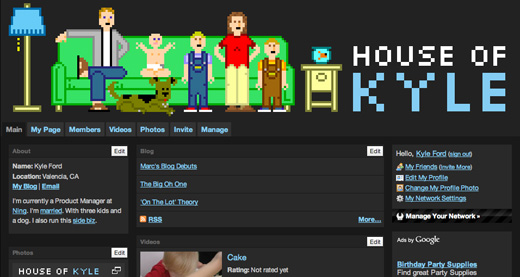 After we launched Your Own Social Network for Anything, I was finally ready for House of Kyle to become a social network.
(INSERT RECORD SCRATCH SOUND EFFECT)
A social network for yourself? Instead of a blog? Madness!
Not so. Blogs are great, but for me there were some key things I could do with House of Kyle as a social network that I couldn't do with House of Kyle as a blog.
The Benefits
1) Aggregate My Digital Life
Steve Jobs hit the nail on the head several years back when he re-positioned the personal computer as the "digital hub" for all of the new gadgets entering your life.
We're starting to see the same phenomenon occur with web services.
I no longer just maintain my blog, but use dozens of other social services like like Twitter, Flickr, del.icio.us, Digg, Last.fm, Google Reader, Facebook, MySpace, YouTube and countless more.
I decided that House of Kyle should be a central hub that aggregates information from all the services that make up my digital existence. Ning makes this as easy as dragging in Text Boxes and RSS modules to your layout.
Now this is something I could certainly achieve by adding widgets and RSS modules to my existing blog (a feature of almost all modern blog services), but I wanted to take things a bit further. Read on.
2) Centralize My Media Collection
Since House of Kyle on Ning offers full Flickr-style photo sharing and YouTube-style video sharing within the network, I am able to consolidate my videos, photos, music, podcasts, and blog posts in one place. And, using House of Kyle, do so under my own domain.
The benefit is that I retain all traffic to my media pages and am able to offer videos, photos, and music as widgets that – when my friends add them to their blogs – are branded House of Kyle and send people back.
3) Build a Community on House of Kyle
This is the big one. It's 2007. Why limit people's interaction to simple comments on my blog posts?
By making House of Kyle a full social network, I now have the option after a great party to let my buddy Dave upload his photos to my photos collection directly on House of Kyle. He can even add them during the party from his cameraphone.
That video of me performing in the 8th grade musical production of Oliver? My mom's itching to upload it. (thank God for moderation).
The next time one of my blog's comment threads spins out of control with too many heated arguments? I'll add a Forum and roll the conversation in there. It's just drag and drop.
Best of all, each of my readers gets their own profile page, so I can learn more about who they are, and have them answer any custom profile questions I set up. Beats a barebones "Posted By" link on a standard blog.
The Limitations
All this sunshine and happiness aside, there are definitely some issues with the "social network for your personal site" concept, all of which we're in the process of resolving.
1) I can't currently import entries from my existing Blogger blog. This is coming soon. In the mean time, I'm still using Blogger and displaying the entries on House of Kyle via RSS.
2) It's a little strange that other people have the ability to create their own blogs on House of Kyle. I don't really mind this, but for those that do, we'll soon be offering the ability to turn off blogs on member pages.
Overall I've been pretty pumped about the new direction I've been able to take with House of Kyle.
Thanks to the breakneck pace at which Ning is rolling out new features, I have little doubt that House of Kyle will evolve even more rapidly over the next few years.
Be sure to check back in 2015 when it'll be available in pill form.