Spread the Love
Updates

You can now enable members of your social network to add videos, music, podcasts, and photo slideshows – branded and linked back to your network on Ning – to Facebook with one-click.
For a little interactive introduction to Facebook integration, Kyle's screencast should do the trick:
Ning Screencast #4
You can watch it here or view a full screen version as well.
If you don't know about Facebook, it's a general social network like MySpace, that has millions of people using it today. Initially, unlike MySpace, it was closed to things like embedded videos, photo slideshows, music players, and podcasts. However, a few weeks back, it "opened" itself up to embeddable widgets and the option for developers to add new features to its service.
Facebook integration is an excellent way to get the word of your social network out. Members of your network can spread videos, music, podcasts, and photos from your network to a whole new set of people with one-click.
Facebook Integration
Here's what your network will look like if you enable this new Facebook integration: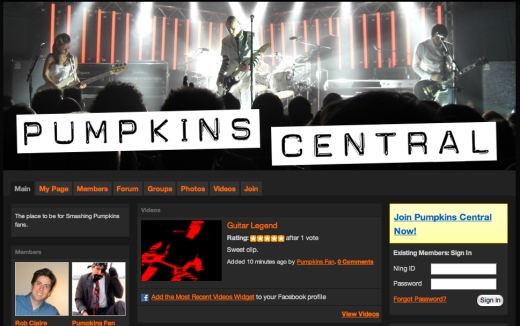 See that link under the video thumbnail? If someone clicks on that link, they'll be taken to Facebook, asked to sign in, and then can add that video to their profile page on Facebook. Here's an example of the above video now on Kyle's Facebook profile: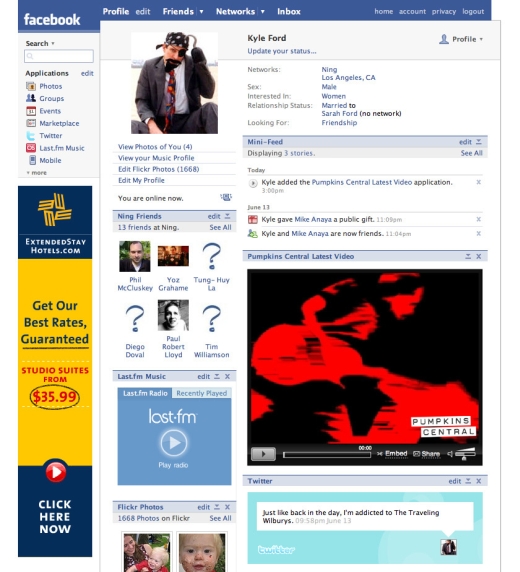 For those of you who are familiar with MySpace, this is very similar to what you can do today there by copying and pasting a video player onto your MySpace page. In this example, you can see that the video is branded for Pumpkins Central. That watermark links back to Pumpkins Central on Ning. That's the "viral" element that drives people back to your network.
But, wait, there's more. From Kyle's profile or their own news feed page, other people on Facebook can take this video and add it to their profiles with just a click. This enables rapid viral distribution of this video across Facebook as well.
That's a lot of viral distribution. And that's the point.
This option is available to any Network Creator who has a social network on Ning. To set up Facebook integration, you just need to follow the steps that are laid out on the Facebook Promotion link from the Manage tab. There are a few pages of steps on Facebook to set this up, but the Ning steps are instantaneous. The result is the ability for your members to spread videos, music, podcasts, and photo slideshows from your network across Facebook.
One final note. This is the first time that anyone can be a developer on Facebook without knowing any code or setting up an application on their own servers. This, for us, is something with which we're extremely proud.
We want everyone to have the same opportunities to create and share social networks, regardless of whether you know how to code or even know what having your own servers means. With this release, we're enabling the opportunity for anyone to create (and scale) a Facebook Application.
Other New Features in this Release
Facebook integration isn't the only new thing around here.
We've also changed the sign in process to enable it to play nicely with Technorati and Digg. The added benefit of this change is that the initial page load of your network for your members should be faster, especially for those internationally. You'll need to sign in to each network you use for the first time across Ning, but we think that the benefits of performance and Technorati and Digg support hopefully outweighs this small extra step.
If you have any questions or feedback for us, by all means come on over to Network Creators or visit Ning Help.