We Live Here [Uploaded]
Ning Network Spotlight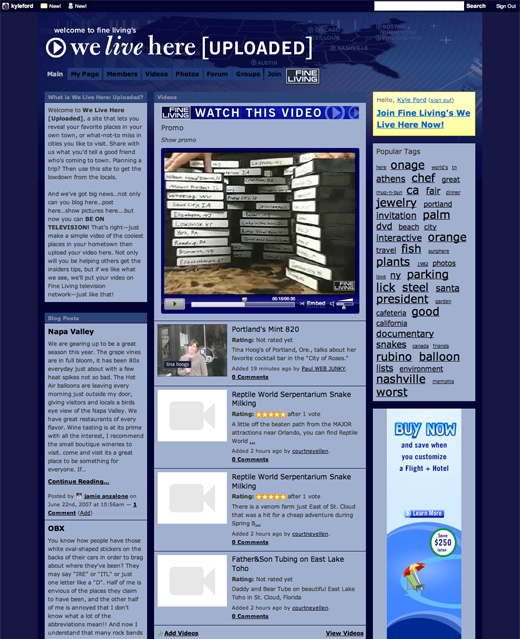 We Live Here is a cable show on Fine Living that has locals from a particular city give you, the viewer, the lay of the land from their perspective.
They launched an online version of their show called We Live Here [Uploaded] where anyone can upload their own video guide to their own city. The best ones will then be showcased on the television show. Pretty cool, eh?
I think We Live Here [Uploaded] is a great showcase for media properties – or any online brand – looking to create coordinated and integrated social networks with existing brands. Here are a few things to highlight:
It's got a coordinated visual design that is complementary to their main We Live Here page on Fine Living's website but polished and distinct in its own right.
It's domain mapped for fineliving.com.
The search engine optimization that comes automatically with every network on Ning, even domain mapped ones, pops We Live Here [Uploaded] to the top of Google search results.
They've watermarked their video player and photo slideshows for Fine Living.
They've produced a great video introduction featured on the Main page which I love because video promos are extremely helpful to new or prospective members.
We Live Here [Uploaded] showcases both the features we offer for free to anyone as part of Your Own Social Network for Anything as well as the Premium Services anyone can purchase from us for your social network on Ning (domain masking, running your own ads, etc).
Most importantly, this is a great example of how the context, content, and members of a social network differentiate it and ultimately leads to its success. Online brands should take comfort in the fact that branding and content are what ultimately make a social network a smashing success. It's you, not necessarily the technology. Although, we think that when working with the right platform, the technology can certainly help. 🙂