AdGabber
Ning Network Spotlight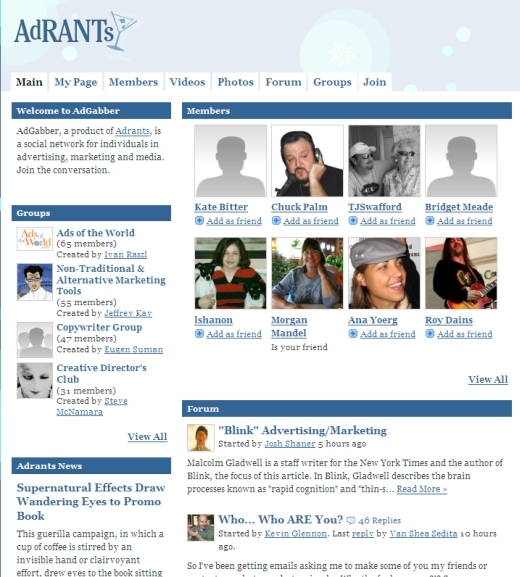 AdGabber is a social network created by Adrants, a marketing and advertising news site and daily email newsletter with a bit of attitude. We like this social network because it takes an established set of "one-way" readers and evolves them into a vibrant social network of "two-way" contributors.
Things we love about AdGabber:
AdRants has done a great job of keeping the discussions in the forum fresh. When his members aren't in the discussion forum, he's in there kicking off conversations.
There are active Groups around topics such as Ads of the World and Non-Traditional & Alternative Marketing Tools.
There's close integration between Adrants and AdGabber, so that members can seamlessly go back and forth between the original site and the social network. This is done with simple HTML links and RSS feeds from Adrants.
An AdGabber-branded spot advertising showcase via the Video feature on your own social network. Because this is a network for advertising insiders, videos are limited to spot TV and online video ads. It's perfect and totally consistent with the focus of the network.
They've taken advantage of the Facebook Integration so that members can add the latest TV spots to their Facebook profile with a few clicks.
On the Main page, they've added Advertising Jobs listing from Adrants that enable members to use AdGabber to find a new advertising or marketing job.
They've also done a great job extending their feature set with external widgets. For example, Adgrabber Chat is powered by a Mebbo widget and the calendar is powered by Google Calendar. It's a nice integration of both.
This is definitely the place to be if you are an advertising industry insider, but it's also a great resource for other Network Creators. Go and be inspired!