Introducing the Ning Help Center
Ning News
We want to let you about some changes we're making to our Help and Support efforts here at Ning.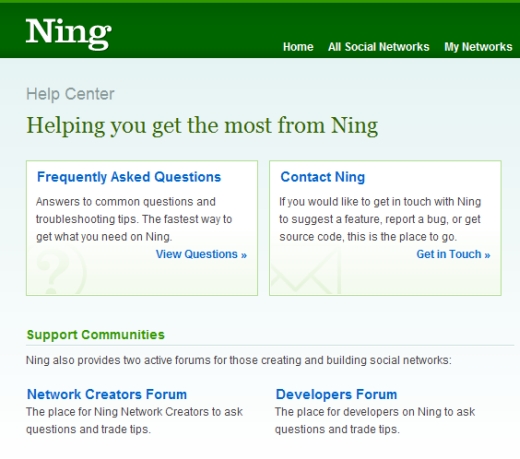 The Ning Help Center
First, we've added a comprehensive Ning Help Center from which we are going to be funneling all help requests going forward.
In addition to a rocking FAQ that we are always updating, we also have a better method to Contact Ning which will allow us to better respond and solve issues that you or your members encounter.
Discontinuing Support(at)Ning(dot)Com Emails
With this new Ning Help Center, we are discontinuing the support(at)ning(dot)com email address. We will redirect people to the Ning Help Center.
This will allow us to get better information from you upfront so that we can help you as quickly as possible and get you on your way.
Additionally, spam on this email address – and all of our email addresses – has gotten out of control and we want a way to minimize it so that we are addressing issues and not learning about ways to make money in Nigeria.
What This Means to You
When you have questions, check out the Ning Help Center first so we can get you on your way as quickly as possible.
This will enable us to focus on troubleshooting bugs and specific issues as well as make improvements to your network faster than we could if we're answering individual emails on topics covered in the FAQ.
It also means that if you or one of your members sends us an email without going through the new Ning Help Center, we won't get it. It doesn't mean that we don't want to be responsive, but we are looking to make everything more efficient so we can continue to be as fast as possible in fixing issues and getting new things for your network out the door.
If we do this right, everyone will win. In the meantime, we might be a bit slower here and there as we implement this new community management effort.
We appreciate your help!