Team Luxury
Ning Network Spotlight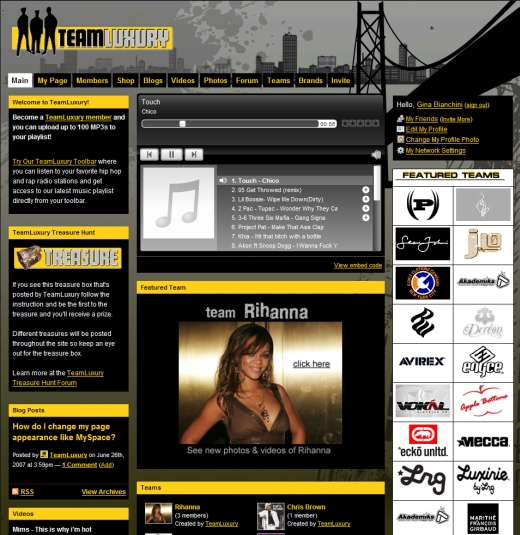 TeamLuxury.com is a social network for fans of hip hop culture. They've done a really nice job in making this clear in the first few seconds you're on their network via music, photos, images, and a few great promotions.
In their own words:
We wanted a place to integrate the love of music with the love of fashion. We believe in the hip hop culture the passion of the two intermingles.

We're trying to encourage our members to join different teams. We are hoping as the number of members grows we can leverage and network with different fashion companies and stores to bring our users more coupons, discounts, sales, and free items.
They've done a fantastic job taking a theme, adding their own logo, domain name, and color scheme to make this network uniquely their own.
More than just the visual appearance, they also have some differentiated features they've created using what comes as options on your same network across Ning.
Using Groups, they've set up "teams" around artists and brands that Team Luxury members can join.
They've also created a really simple and easy Treasure Hunt promotion that's great. They've taken this Treasure Hunt image:

And put it in random places around the network. The first person to find it wins a prize.
Simple, but spot on.