A Tour of Your Network's Manage Page, Part I
Ning's Tips and Tricks
Your Ning Network
Every now and then it's not such a bad idea to take a quick tour of your network's Manage page. We're constantly adding new features and options for Network Creators and this is ground zero for taking advantage of them. In fact, we offer so many options for Network Creators on the Manage page, I'm breaking up this tour and spreading the love.
Here's my Manage page for Santa Monica Beach Volleyball, my demo network on Ning: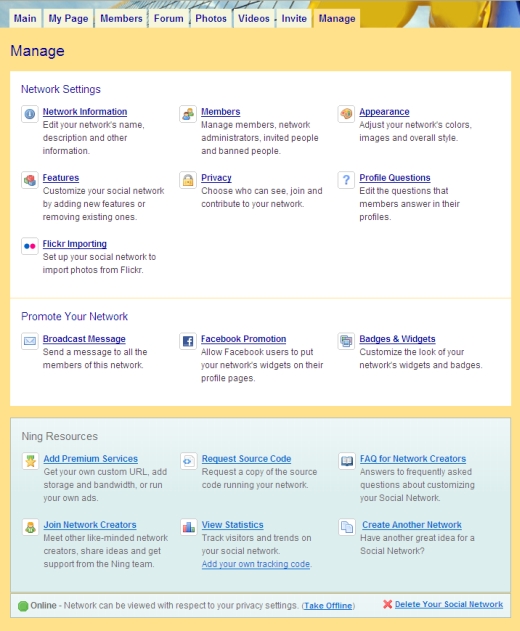 The Manage page is divided into three sections:
Network Settings – or your network's control panel.
Promote Your Network – or ways to share your network to the world.
Ning Resources – or all the little ways we like to help you with your social network on Ning.
Let's first dive into your Network Settings…
Network Information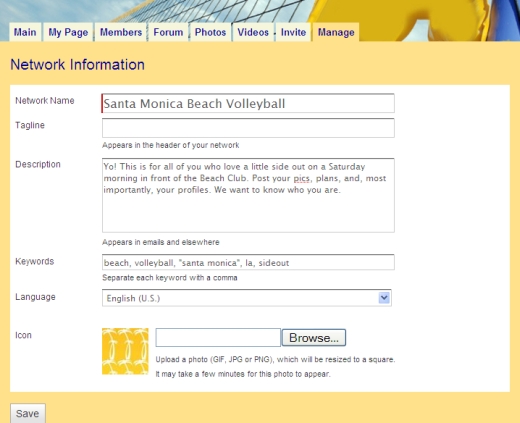 Once you've created a network on Ning, the Network Information page is where you can go to edit the basic information about your network, including your network's title, tagline, description, language (including the option to put it into U.S. English, British English, Argentinean Spanish, Spain Spanish, Portuguese, Chinese, or Dutch with a click), as well as update your social network's icon.
Your network's description, keyword, and tagline information are a few of the many elements used by your network to increase its rank in search results. We strongly suggest adding these for your network as a key way for new people to discover your network.
This page is only available to the Network Creator, not Network Administrators in order to prevent a rogue Administrator from changing your network's key information. We love thinking about the rogue Administrator. It's all very vivid and detailed.
Features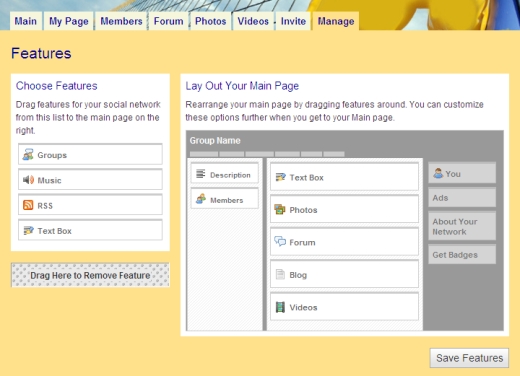 The Features page is where you can choose which features you want on your network. This is also where you set up how these features should be presented on network's Main page.
For new features we announce, this is the spot to find them. We're always adding new things and your members will love you keeping the feature options and layout fresh on your network, so check back here often. In fact, we'll be adding the option for you to control the right hand column of your network from this page in the next release, so it's worth coming back for that alone.
Members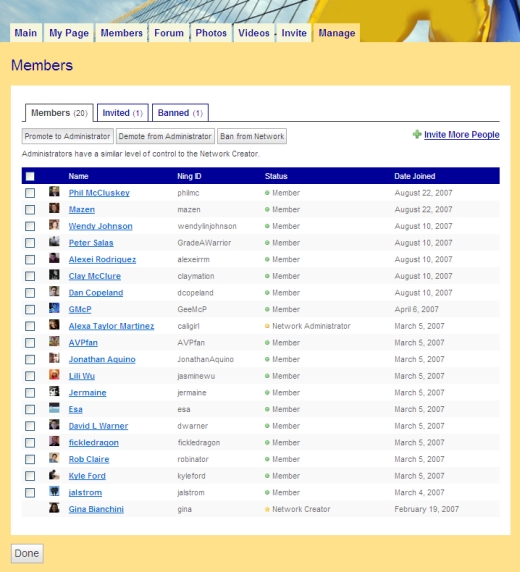 From the Members page, you can see all of your members in one place, flag certain members as Network Administrators, view people who have been invited to your network, as well as ban rogue members you no longer want on your network. To make a member a Network Administrator or ban someone, simply check their name and click the appropriate button at the top of the page.
Privacy
The option to make your network public or private is one of our favorite features on Ning. Whether it's to keep your network exclusive for buzz purposes or because your family is going nuts with the newborn photos and videos and it's just better for the rest of the world not to see, your network's privacy is your choice.
As a public network, you can decide if visitors see everything, just the Main page, or just the Sign Up page before they sign up. As a private network, you can decide if members of your network can invite new members or if visitors can request an invitation from you directly. These requested invitations show up in the Members page above.
Appearance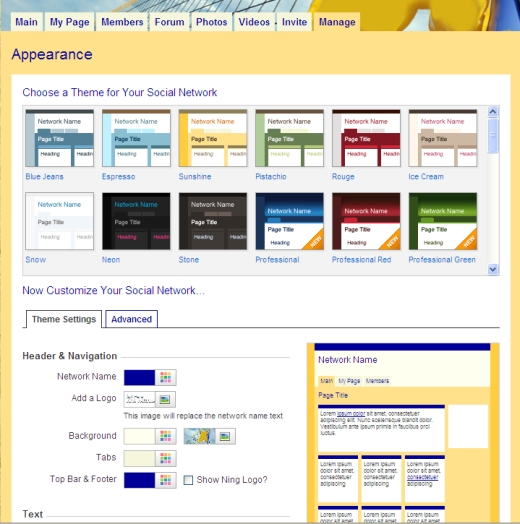 The 45 themes we offer at the top of the Appearance page are only the beginning of the possibilities. Unlike other services that offer a set of rigid templates you can't change, your chttps://www.ning.com/blog/2007/08/new_themes_time_to_mix_it_up.htmlhosen theme on Ning is entirely customizable at every level. You can change the colors, fonts, as well as add your own logo and images or add your own CSS. The possibilities are endless and the results are that each and every social network on Ning is unique.
Profile Questions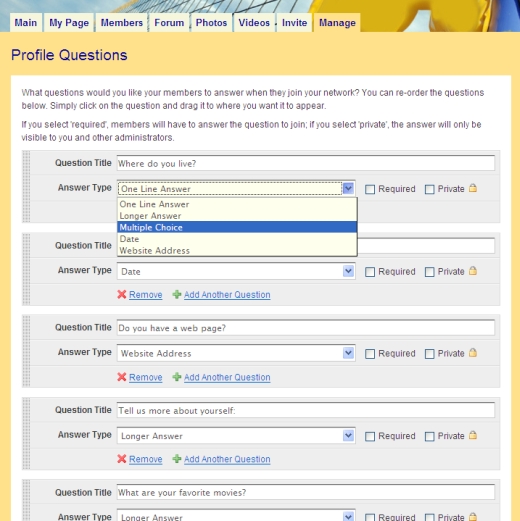 Ah, and here we are at the Profile Questions page. Rather than the set of generic profile questions you find on general social networks, you control the profile questions your members are asked when they join your network on Ning. For example, the things I want to know about people joining Santa Monica Beach Volleyball may be very different than if they were joining MySpace. Or not. The point is that you have a choice.
From the Profile Questions page, you can decide what answer types you want for your questions. You also have the option to make a question required or private. When a question is marked private, only you as the Network Creator or Administrator will see the answer. This is great for asking members personal information that will help you manage your network.
I hope you've enjoyed this little tour of but a fraction of the options you have as a Network Creator on Ning. If you have any questions, cruise on over to Ning Network Creators and ask away.