Aunty Monkey: Up, Up, and Away
Ning Network Spotlight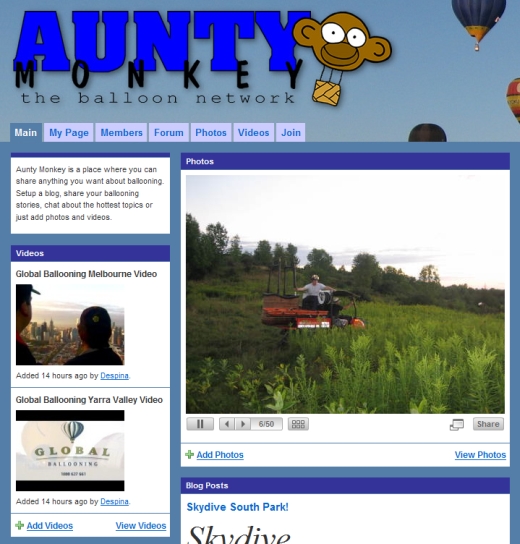 Aunty Monkey is a great example of how to build a successful social network on Ning about, well, anything. I've never given much thought to hot air ballooning as a hobby, and yet this tight-knit community has come together over just that. The network, with over 250 members, is now number 10 on the top 50 hot air ballooning websites. This is, in large part, due to the search engine optimization that comes automatically with your social network on Ning.
The beautiful custom header, created from a ballooning photo and Aunty Monkey's own quirky logo, immediately draws visitors in. A text box on the main page features a poll widget with ballooning-related questions.
Aunty Monkey's strength is that it provides a place for people to share their passion for Hot Air Ballooning. And it's clear that ballooning is more than just a hobby: take a look at the members and you can see that a lot of folks here own their own hot air balloons as businesses.
Over 2200 ballooning photos have been uploaded by members. Here's the branded photo slideshow widget:
Aunty Monkey has tapped into the passion for Hot Air Ballooning, and given ballooning enthusiasts a social network to call their own.