Brookline High School Alumni Go Social
Ning Network Spotlight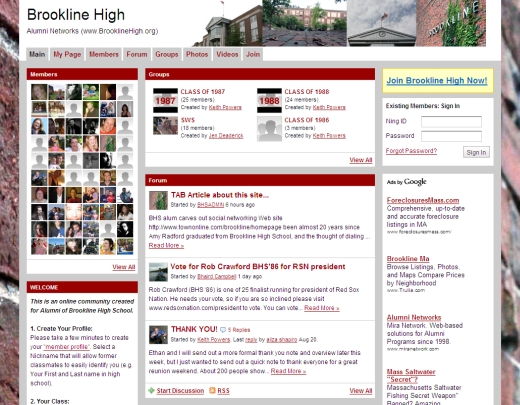 Ah, Fall is in the air and our attention turns back to school. In this case, Brookline High School in Massachusetts, where they've created an alumni social network featured today in the hometown paper, the Brookline TAB.
Perfectly kicked off by a set of recent reunions, they are using this network to share updated information, photos, videos, as well as create groups for different classes and use the forum for announcements, not to mention discussing the glory days.
They've taken advantage of the privacy option to show only the Main page of their public network to visitors, which for their purposes is a smart move. It strikes the right balance between being public and keeping the network exclusive to Brookline High School Alumni. They've also mapped the domain name to www.BrooklineHigh.org.
One feature that I think that they should promote is the ability for any member to email in photos and videos from their cameraphone into the network. This feature is perfect for events like reunions, concerts, you name it. Once set up, it's sure a lot easier on the Network Creator than having everyone on the network email one person with their photos from the reunion. 🙂