Indiepublic
Ning Network Spotlight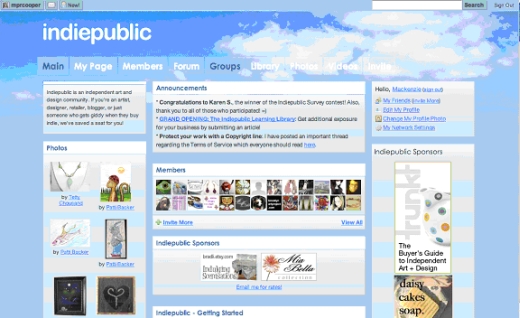 Indiepublic is a network for independent artists and designers, and the people who love them. In less than a month, over 1500 people have found their way to Indiepublic. Network Creator Sion has made Indiepublic as accessible and friendly as possible, with a "Getting Started" text box on the Main page, for this network and for Ning in general, and an extensive discussion thread dedicated to Indiepublic FAQs. The network has utilized a couple of our premium services. The domain has been mapped to www.indiepublic.com, and Sion runs his own ads.
Members of Indiepublic have created over a hundred groups for bonding by geographic location and type of craft. Over 15,000 photos have been uploaded, most of which are of the crafts and art members have produced. Here's the branded slideshow widget from Indiepublic:
The Forum category "Shameles Self-Promotion" further encourages members to showcase their work. And if you see an item you like, chances are you'll be able to buy it on Etsy, the online mecca for handmade crafts. Most members include their Etsy Store badges on their profile pages.
But what I'm particularly drawn to on Indiepublic is the Library tab, an extra forum section added specifically for swapping tips and tricks of the trade. There's a category dedicated to helping others learn how to promote themselves and one with how-to videos and articles.
I love the idea that people are using this network not just to promote themselves, but to share their love of the artistic process. It's about creation, about the joy of making not the joy of money, and that's what really comes through in the Library.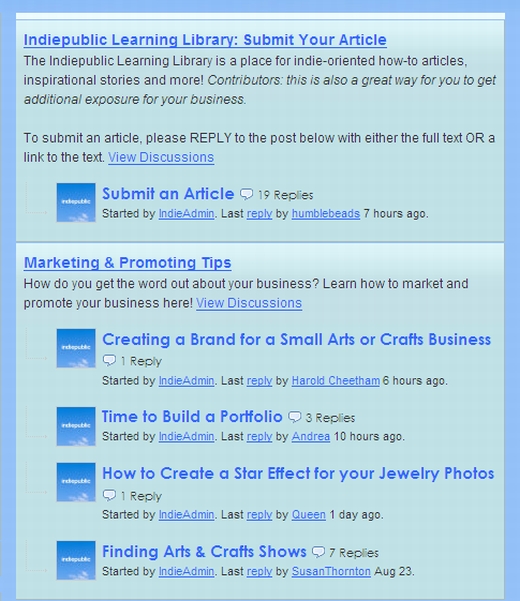 What's also great about the Library on Indiepublic is that it's an example of how any Network Creator can add an extra forum to their network. You don't even have to request a copy of the source code!
To add your own Library or an extra forum to your social network, go to the edit source code screen for your network. The URL for this screen looks like this:
https://www.ning.com/?view=apps&appUrl=YOURNETWORKSUBDOMAIN&op=edit
Go to the "instances" directory and create a new directory for the extra forum. The name for this folder must be all lower case and can't have spaces or special characters. This is the name what will appear in the URL when people click on your new tab. Sion called his file "library" and when you visit it the URL is #forum.
Go back to the "instances" directory and click on the "forum" folder. You'll see a file called "widget-configuration.xml." Copy the contents of the file by clicking on it to edit it, copying the text, then clicking cancel. Go back to the new folder you created.
Make a new file called "widget-configuration.xml" and paste the copied code from the original Forum's file. Before you hit save, change the value for the ID in the second line of the file to a number in the 100s. This is so it won't conflict with any of our built-in widgets. Next, update the value inside the
Hit save. When you visit your network again, your new forum will be active!