Numberonestunnas Motorcycle Club
Ning Network Spotlight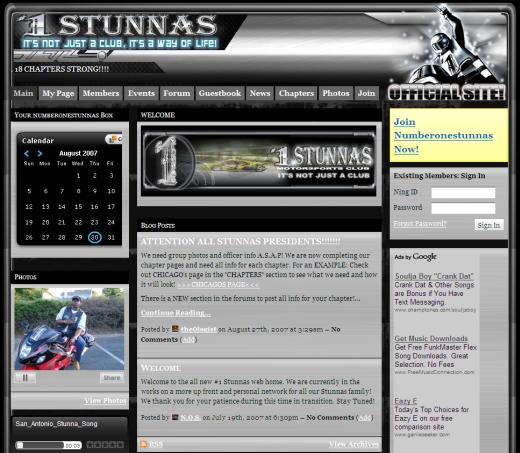 Numberonestunnas is a motorcycle club founded in Chicago, now 18 chapters strong. There are so many things that they have done right with this social network. The design is dark, moody, and perfect. Plus, the use of widgets and graphics in the HTML text boxes on the Main page is beautifully integrated into the overall design.
Let's take a closer look…
Numberonestunnas Events
I really like how they've used the HTML text box to showcase polished event "fliers" halfway down the Main page:
This is a great way to announce events ahead of there being an integrated events calendar on your social network.
Branded Photos, Videos, and Music Badges & Widgets
Unsurprisingly, they've done a great job with the branded photos, videos, and music widgets that come automatically with any social network on Ning. You can put these anywhere – MySpace, blogs, websites, you name it – and they always link back to Numberonestunnas.
Search Engine Optimization
The combination of your own URL and the search engine optimization techniques built into your social network on Ning is a powerful one. Here's the Google Search Results page for Numberonestunnas. Yep, that's this network at the top.
Now compare this to MySpace…
We sometimes get the question, "why would I want to create a social network on Ning when I can just create a MySpace page or group?" It's a seemingly intelligent question, until we do the side-by-side comparison. For fun, I clicked on the MySpace Group page for Numberonestunnas: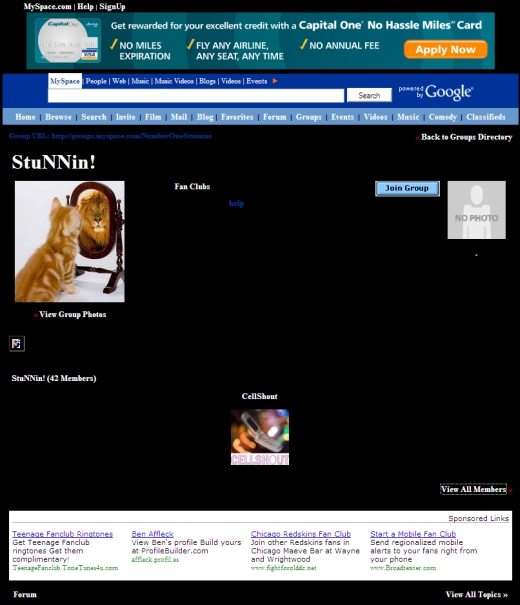 Enough said.