Pet Boogaloo
Ning Network Spotlight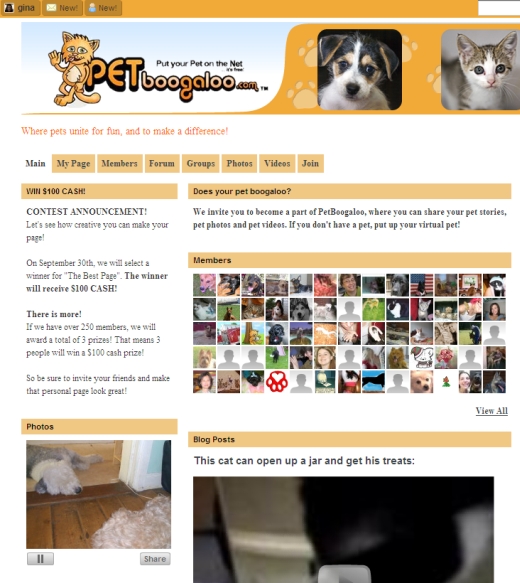 Anyone who has ever had an adorable pet understands the urge to show him off. Pet Boogaloo was created for just that purpose.
It is also a strong contender for one of the cutest networks on Ning. Who can possibly turn away after seeing the custom header? The confused puppy, the wide-eyed kitten, the two birds that look like an old married couple? It's a compelling value proposition. Not to mention the logo: "Put your pet on the net" makes it perfect for even most literal among us.
Members have embedded quirky videos – a cat opening a bottle, a dog speaking English – into their blogs, utilizing the ability to embed any widget into a blog post.
Network Creator Rita Wilhelm has introduced a contest to encourage members to customize their profile pages, with three cash prizes of $100 each. Groups abound for every type of pet you can own. Lizard, dog, or rabbit, big or small, real or even virtual, all pet owners are welcome to this network.
Most of the photos feature members with their animals, and many members feature their animals in their avatars as well.
And not only are people members of this network, animals are too. Some members have devoted their profiles to their pets, while others have simply created unique profiles for each pet. You can see here with the Network Badge what I'm talking about:
Quirky, yes. But if you've ever felt the overwhelming joy a pet can bring to your life, you'll understand what Pet Boogaloo is about.