TrikePilot.com Goes Social
Ning's Tips and Tricks
TrikePilot's new social network on Ning has been met with enormous enthusiasm. After taking a one-year break from his former website TrikePilot.com, Network Creator Spencer Forman decided to play around with a TrikePilot network on Ning. He called it the "social edition" of trikepilot.com and altered the header to reflect this.
The growing network, currently climbing towards 100 members, provides a place for trike fliers around the world to come together and share videos and photos as well as tips. After a little bit of research, I've learned that trike flying is pretty badass. You've got to love a hobby that involves one or two people strapped to a hang glider powered by a tiny motor.
To track the growth of his new network, Spencer added Google Analytics. He also purchased the premium service to run his own ads and added Google Adsense. He did the same for his former website, now referred to as "TrikePilot Classic" and retained for archival purchases. Statistics from just a few weeks after the Ning network's inception are quite impressive.
While the old website generated 264 visits and 502 pageviews during a two-week period, the new social edition generated 1,480 visits and 15,068 page views in the same time. Visitors spent three times as long perusing the network and Google Ads generated nine times as much revenue on the new Trikepilot.com.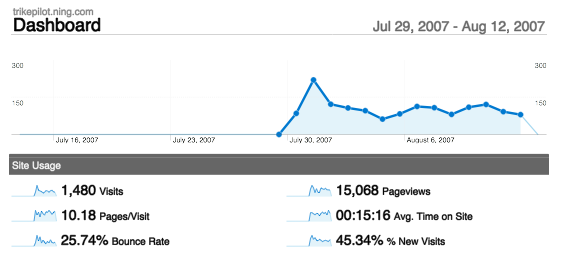 The success of TrikePilot's new social network on Ning proves just how powerful social networking is for existing websites. Spencer reports that members of his network are having a great time and love that there's always something new and exciting happening there.
It's easy to set up Google Analytics on your own network to track visitor statistics. You'll first need to sign up for a Google Analytics account. Once you've signed up, add a new Website Profile for your network. Copy the code you've been given, then go to your social network's Manage tab.
Near the bottom of the Manage page in the "Ning Resources" box, you'll see a section called "View Statistics" with a link to "Add your own tracking code." Click this "Add your own tracking code" link. Insert the code you've received from Google Analytics and copied over. When you click "Save", that snippet of code will be included with every page request on your network. You'll be able to track visitor activity by logging in to your Google Analytics account.
Let us know how it goes!