Artbook Coalition
Ning Network Spotlight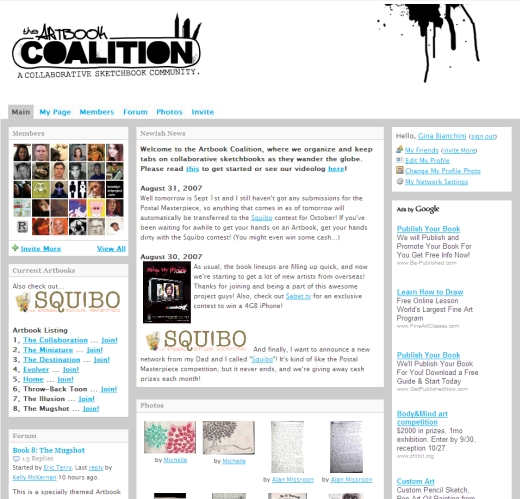 The Artbook Coalition is a perfect example of a community built around one really great idea. This network tracks sketchbooks as they travel around the world from artist-to-artist. Artists who agree to participate in the project receive one of the ten sketchbooks and he or she keeps it for ten pages or two weeks, whichever comes first. Many of the artists then upload photos of their sketchbooks pages here at The Artbook Coalition.
So far, this experiment in collaborative art seems to be going well. There are eight sketchbooks currently circulating the globe. Stops for the sketchbooks include cities all over the US, as well as parts of South America, Asia, and Europe.
Many of the network's 150 members have signed up to participate in the project, though "onlookers" are just as welcome. Take a look at the network's branded slideshow widget and you'll see some of the amazing art this talented group has created.
The awesome custom header lends to the artistic mood of the network, but the quality of the books truly blows me away. The slideshow widget makes me want to take part in this project, although for the moment, I'll just keep checking in on the sketchbooks to see what they're up to.
Network Creator Eric Terry is doing a fantastic job facilitating the progress of this project. He's a great Network Creator to watch in action. In fact, Eric has got a new network I'm also a fan of: Squibo, a postcard art competition. He might just be cornering the market on collaborative art communities.