CitySkip
Ning Network Spotlight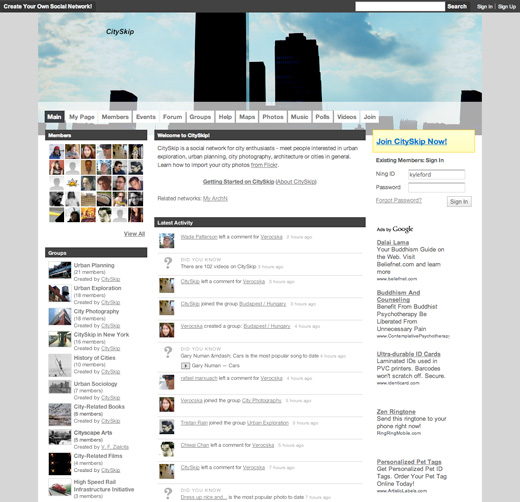 As described by its creators, CitySkip is "a social network for city enthusiasts" that lets people get to know others interested in urban exploration, urban planning, city photography, architecture or cities in general.
With 211 members (and counting) and nearly 30 groups, the CitySkip team (CitySkip, Shin-pei and Dean) have created a thriving community, which is no doubt the result of some very creative customizations they've implemented, including:
A photography contest in their network's Forums. The winning photo becomes the network's new top banner.
A custom poll embedded into a Text Box on the main page.
Great use of external RSS feeds to bring the latest related news to the network's members.
A prominent notice encouraging members to import their existing photos from Flickr, which makes a ton of sense for members likely to already have large online photo collections.
This stunning member photography also makes their network's custom photo widget really shine:
It's obvious that CitySkip is just getting warmed up, and we look forward to watching them expand over the coming months.