Diddlyi
Ning Network Spotlight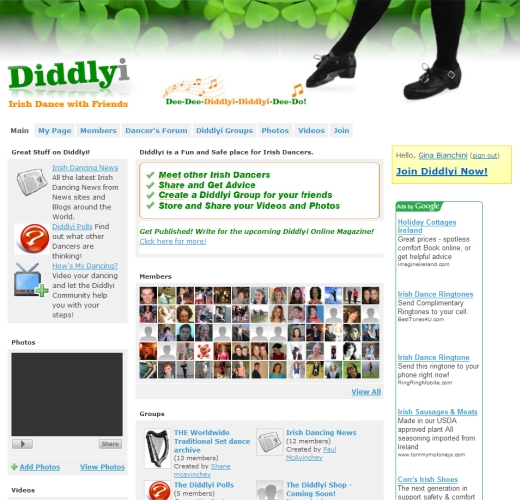 Diddlyi is a social network for Irish Dancers to meet and exchange tips and tricks of the trade. Network Creator Paul McAvinchey has spent a great deal of time customizing Diddlyi's appearance as well as making it a safe and fun community. The result is a network that is undeniably a happy place to be even if you are not an Irish dancer.
Members of Diddlyi have had fun creating almost 30 groups. Several of these have taken advantage of the group text box to input interesting widgets. There's a group called "Irish Dancing News" with an aggregated headline widget, and one called "The Diddlyi Polls" with a polling widget in the text box. Both these groups are promoted on the main page of Diddlyi. Here's a screenshot of "The Diddlyi Polls:"
The network's header incorporates the Irish Dancing theme in a way that makes me smile. With the addition of the "Run your own ads" premium service, Paul has customized his Google ads to display within a green box to match the color scheme of the network. Even the logo, shown above in the network's header, seems to convey the joys of dancing.
It's clear that Paul strives to make the network a place for all ages to have fun. With over 300 members, an active forum, and nearly 1000 uploaded photos, it looks like he's on the right track!