Latest Activity on Crimespace
Ning Network Spotlight
Ning's Tips and Tricks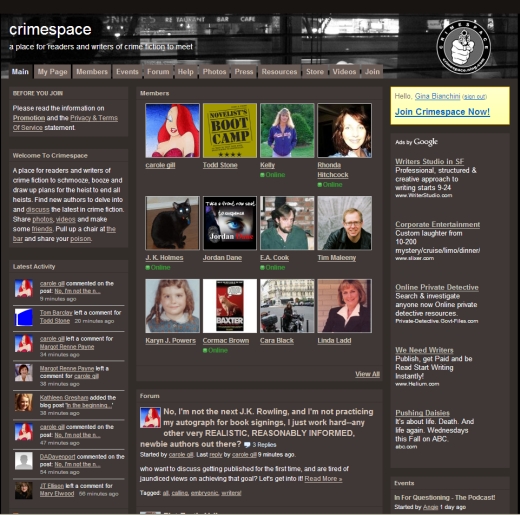 Created by Daniel Hatadi, Crimespace is, "a place for readers and writers of crime fiction to schmooze, booze and draw up plans for the heist to end all heists."
In addition to being a great network generally – 942 members strong – it is also a nice showcase for our new Latest Activity feature, which Daniel is displaying on the left hand column of the Main page. I also like the way that this layout puts members front and center. When you've got active members who have uploaded profile photos, this is a great layout to put in place.
Daniel has also done a few interesting things with the advanced feature of adding your own HTML pages, but you can also do these with Discussion Forum Posts now that you have the option to close the discussion topic. He's added a Press section as well as a Help/FAQ section to which he is nicely sending members.
Lastly, he's set up a simple Cafe Press store and linked to it from the tabs up top. While adding a tab today requires requesting a copy of your code (UPDATE: Not anymore!), you can use an HTML text box (accessible from the Features page) to add a simple link to your store on Cafe Press or Zazzle.
Not only is Crimespace a unique social network, it also demonstrates the extensibility of your own social network on Ning.