Premium Services on Your Network
Your Ning Network
In our continuing tour of your network's Manage page, I want to give Premium Services a special mention.
We offer a number of Premium Services for your network on Ning. They are designed to provide you even more freedom over your social network than we offer with the free service, which we like to think is pretty darn flexible to begin with.
Here are the Premium Services we offer you for your network:
Run ads on your social network – with this service, you can replace our ads with your own ads or take off ads altogether. When we say "your own ads", we mean that you can take off our Google AdSense ads and replace them with your own Google AdSense or any competing ad network you'd like. This service is $19.95 per month.
Use your own domain name (also known as a URL or website address) – if you own your own domain name and want to use it for your new social network, you can with this service. This service is $4.95 per month.
Remove Ning promotion links (formerly known as "Protect Your Source Code") – this service hides the "Create Your Own Social Network" links on your network and, as of tomorrow, will also allow you to remove the "Created By" box on the right hand column of your network. This service will be $7.95 per month beginning October 5th, as we have a promotional price of free going on right now.
Increase your quota – your network comes with 5GB of storage and 100GB of bandwidth for free. This is typically enough for most networks, but if your network turns out to be hosting millions of photos and videos, then you'll want the option to purchase additional storage and bandwidth for your network. We sell "units" of 5GB of storage and 100GB of bandwidth for $9.95 per month per unit.
Now let me show you how to purchase Premium Services and a few new features coming down the pipe…
From your network's Manage page, choose the Premium Services link under Ning Resources: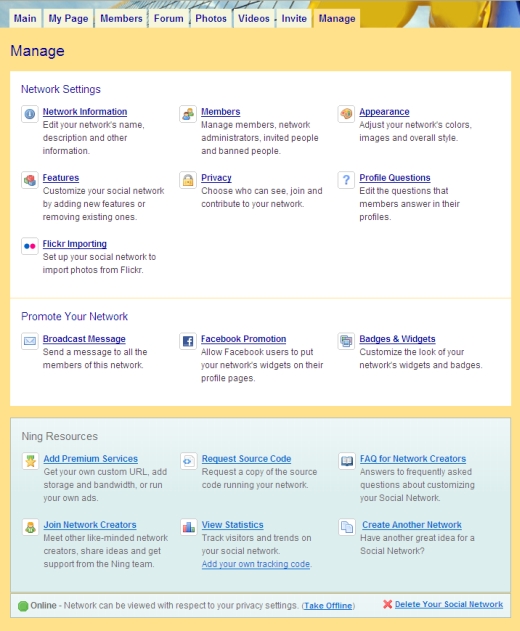 You'll come to a green Ning page that has a list of the Premium Services that you can purchase. From here, you can click to choose any Premium Service: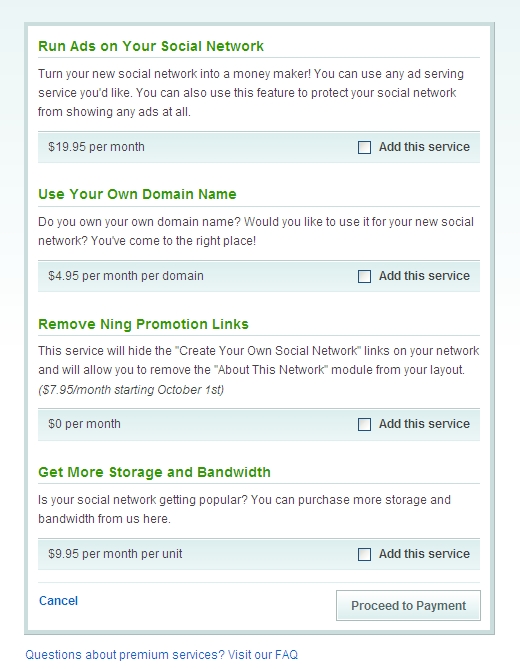 Now, let's say that you want to run your own ads. Click on the link to purchase and you'll see the section open up: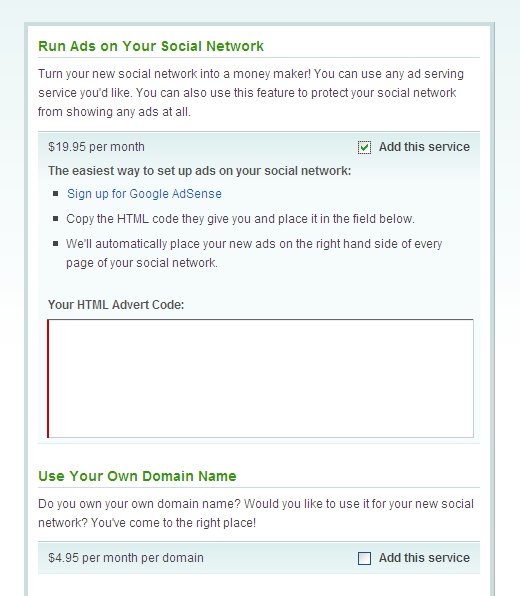 The section provides instructions for going to Google AdSense to set up your account, get your advertising code, and then paste that code directly into this field.
Using your own domain name requires you to purchase a URL or domain name on any number of registrar services that offer the option to buy a domain name. Some of these services include GoDaddy, Yahoo, and Network Solutions. We'll continue to improve the set-up process for domain mapping but typically following these instructions will get you going.
The other two services – Remove Ning promotion links and Increase your quota – are self-explanatory and don't require any additional steps beyond clicking them on this page and putting in your credit card on the next page to complete the transaction.
New Features Coming September 8th
Premium Services get a little more interesting this weekend when we open up the right hand column of your network and enable you even more control over your ads box if you purchase the option to run your own ads or the "Created by" box when you purchase the option to remove the Ning promotion links from your network. Here's a quick screencast on the new options:
Find more videos like this on Ning Network Creators