Sabet.TV: A Community of Hyper/Talented Folks
Ning Network Spotlight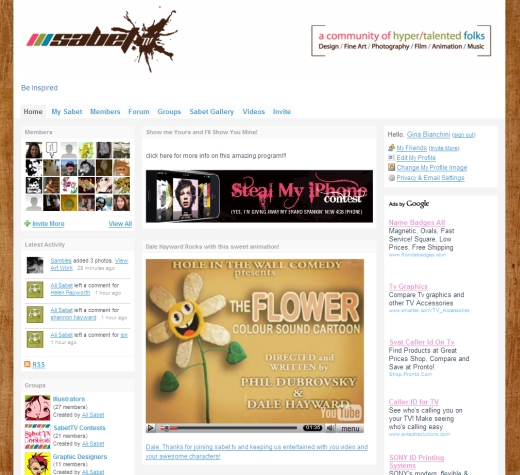 So, you'll need to be the judge of whether Ali Sabet's has met his goal of creating a social network for hyper/talented folks across Design/Fine Art/Photography/Film/Animation/Music on Sabet.TV, but it sure looks pretty. And he's done a lot of things right to make this a special place.
He's seeded a whole range of relevant Groups as well as using the feature to roll out unique programs and contests. For example, he just kicked off an Art Swap that seems very cool. Plus he's got a great little contest going, "Steal my iPhone".
Draw, animate, photograph, video tape,paint or sing HOW you would steal my iphone. Keep your animations and videos short! 30 seconds max. AND USE THE SABET.TV LOGO/THEME SOMEWHERE IN YOUR ART.
See for yourself the work of the artists on Sabet.TV on the photo slideshow widget here:
Interestingly, he made the decision not to include his logo on the photo slideshow or video players in order to put the work front and center, but there's still the link back to. If he ever wanted to add it for viral videos, photos, and music players, he's got a great logo on the Sabet.TV badge: