Sarcoidosis: Support for Those Affected
Ning Network Spotlight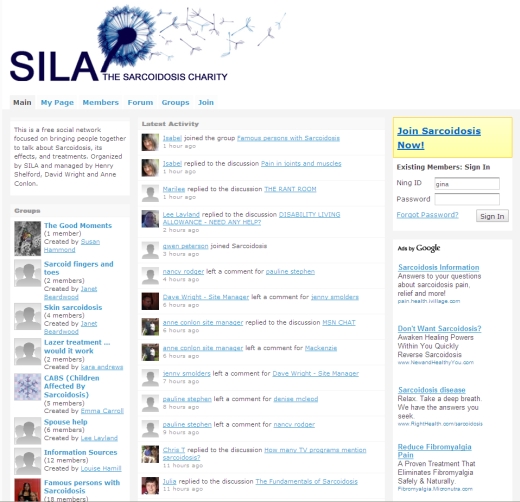 Sarcoidosis is a new social network organized by SILA, the Sarcoidosis and Interstitial Lung Association and managed by Network Creator, Henry Shelford.
SILA's Main page highlights the network as a "discussion area" to meet others touched by the immune system disorder called sarcoidosis. According to SILA, the disease has no known cause.
The Sarcoidosis network has been embraced by those with sarcoidosis as well as their families and friends. With over 350 members, the network has become a popular way to share stories and provide support. Like many social networks on Ning, SILA takes advantage of the option on public networks to restrict network access beyond the Main page to members only. On the Sarcoidosis network, this strikes the right balance between awareness and privacy.
Moreover, a look at the new Latest Activity panel on the Main page, containing the maximum of 20 items all added within the past six hours, proves just how often members are using the network.
The network's active forum is where a lot of that action happens. Members of the Sarcoidosis network have also taken advantage of the Groups feature to create about 20 groups. There are groups for spouses and children of sarcoidosis patients. The most popular group, Steroid Treatment, has over 20 members and is used to talk about steroid treatment options and experiences.
SILA's goal is to help people with Sarcoidosis. Like TuDiabetes.com, they've fostered a place for anyone touched by the disease to share their stories and receive support from others. The network is like a virtual support group, bringing SILA so much closer to achieving their goal.