Secret Fun Time
Ning Network Spotlight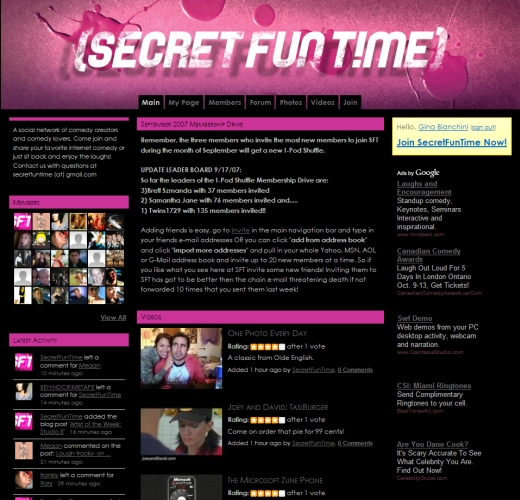 Secret Fun Time is a social network for Internet comedy fans.
It's an active network as you can tell over on the left hand column with their Latest Activity feed. The network's over 200 members love spreading the joy. Almost 400 photos and 200 videos have been added to the network. Many of these have been added by Network Creator yourdk, including over 30 of his comedy troupe's clips. Here's the network's branded video player:
The design of Secret Fun Time draws you in. The fun, quirky, bright pink custom header stands out against the stark black background. Bright pink headers and highlights throughout complete the dark, deadpan nature of the network.
Also unique about Secret Fun Time is the membership drive contest happening during the month of September. Announced on the main page, the contest will award the top three members who invite the most people to join with a new iPod Shuffle at the end of the month. Weekly updates, on the main page and sent out via broadcast messages, list the top three inviters and the number of people they have invited. These updates also encourage members to take advantage of the network's easy "Invite" tool to drive more people to join the network. The membership drive is an ingenious way to get people to join and enjoy Secret Fun Time.