The GaragePunk Hideout
Ning Network Spotlight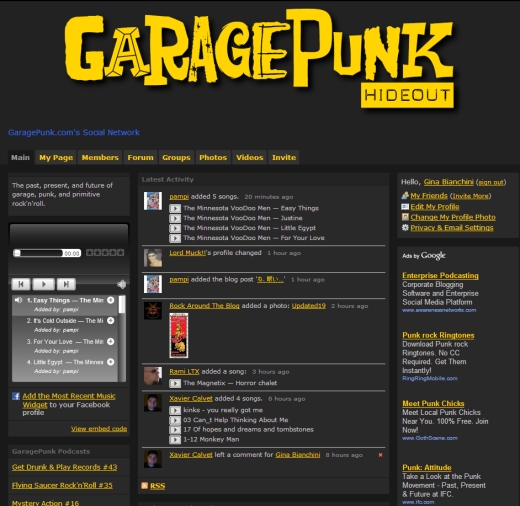 The GaragePunk Hideout is my new favorite place to discover music, specifically "the past, present, and future of garage, punk, and primitive rock'n'roll." The Latest Activity feature from our latest release makes this even more fun. You can listen to the tracks that have just been added directly in the stream itself.
This is fantastic stuff that they are most decidedly not playing on any of the Top 40 stations around here. It's the social network of GaragePunk.com, where you can see the link to The Hideout up top: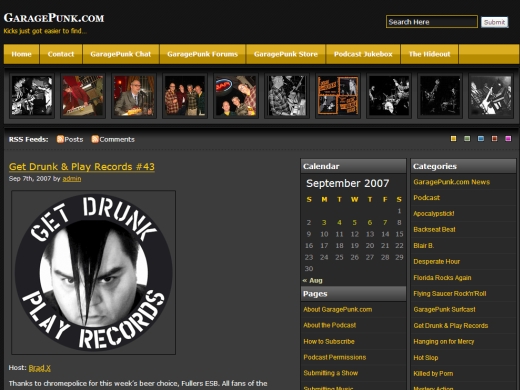 GaragePunk.com and The Hideout are the brainchild of Kopper, who describes himself as:
For over 20 years I've been a punk/rock'n'roll music fan, promoter, 'zine publisher, writer, reviewer, photographer, organizer, record store worker, shit disturber, scenester, DJ, webmaster, and now, a "garage punk" audioblogger and podcaster.
He's got a fantastic description of what they are doing with GaragePunk.com…

An introductory "About this Network" is a great idea for any social network and this is a great one:
GaragePunk.com was originally set up back in June 2001 as the new home for my weekly radio program, The Wayback Machine. Later, it got a lot of worldwide exposure because of the GaragePunk.com Forums message board, which attracted a LOT of traffic to this site (still does!). Enough traffic, in fact, that I could begin selling banner ads to help pay for the rising hosting fees involved. After three years of having nothing more than a goofy pic and a "Pick Your Poison" menu on the root directory of GaragePunk.com, I realized I should do something more with the site, so I decided to turn it into an audioblog. Meanwhile, my friend and next-door neighbor, Bill, thought it would be cool to start a music podcast on this site, and feature a rotating schedule of various garage/punk/rock'n'roll programs hosted by different people, kinda like a real radio station. This was all done with two major goals in mind: First and foremost, we wanted to try to do more to expose the music that we think is good (as well as featured on my radio show) but that most people have never heard simply because they don't seek it out, have never been exposed to it before, or can't hear my show for one reason or another. Secondly, to encourage each and every one of you to support your local independently owned record stores, mailorder sites, and especially the indie labels that produce the vast majority of music featured here.
For a little hit of the music on GaragePunk Hideout, you can have a listen here to The Hydeouts:
It's a little more thrash punk than some of the other stuff here, but are a great example of a band promoting itself within a fanatical base of fans.