The Spill Movie Community
Ning Network Spotlight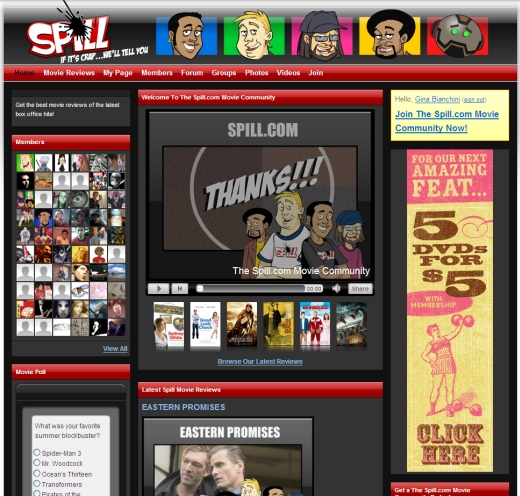 Ok, I'm a sucker for a great looking network. And The Spill is great looking. More than that, they are doing a fantastic job building this network in some creative and compelling ways.
The cartoon videos of movie reviews contributed by the Spill Team are awesome and do a great job of motivating members to add their own video movie reviews. Although I have to agree with Korey from Spill, some of these reviews are a little creepy.
They are using the HTML text boxes on the Main page in a variety of great ways. One way is to showcase a weekly video featuring the winner of that week's review contest as well as links to member-contributed movie reviews via small thumbnails. Here's the current video:
Another is to showcase each of their Spill-provided movie reviews underneath the main introductory text box.
In order to provide a few different ways for members to contribute reviews, they are also promoting on the Main page audio reviews contributed by members. Here's the player from the Main page of the current audio reviews:
It definitely helps that they have multiple network "leaders" driving the charge here at The Spill. In one week, they've added over 500 members and counting, and by looking at the Latest Activity on the Main page, things seem to be cooking.
For Network Creators who want some inspiration, The Spill is definitely worth joining.