What Does It Mean to Be "White Label"?
Ning News
Your Ning Network
There are a host of "white label" social networking companies popping up. I've been curious as to the exact differences between these "white label" social networks that cost thousands of dollars and require significant integration and your own social network on Ning.
Your own social network on Ning can be uniquely branded to get you the social network that you as a company or individual want. It's fast, it can scale as you become wildly popular, plus you own the network, including anything your members want to tell you about themselves.
On Ning, you can choose from an ever growing choice of features, add your own branding, customize your network's look and feel, use your own domain name, and enjoy a whole set of badges and video, photo, and music widgets branded exclusively for your network.
Plus, we're free. If you want even more branding options for your network, you're ~$34 and a credit card away from a totally integrated social network.
So, what do these other companies offer in comparison? Let's find out.
The Ning vs. KickApps Challenge
Here's a side-by-side comparison of Wakefirst, a social network for wakeboarding fanatics on Ning, and Skinet.com, a comparable social network for skiers launched this week by KickApps.
All of the screenshots here are linked to their online counterparts and I'd encourage you to look at these pages in the wild.
Social network's Main Page
Here's the Main page for Wakefirst on Ning: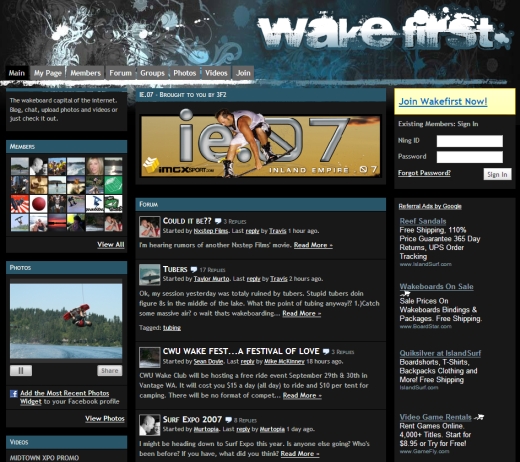 For "white label" social networks, starting with a basic URL that is masked for your brand is critical. For $4.95 per month, Wakefirst is using their own domain on Ning and the URL display is:

Now here's the Main page for Skinet's social network powered by KickApps: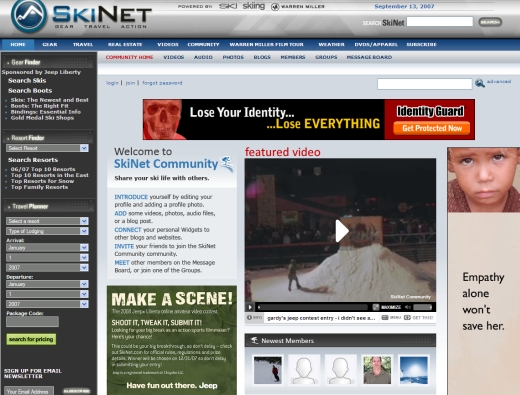 Here's the URL for this community or social network section of Skinet.com:

Yep. That's not a typo. Skinet has a KickApps URL for the Main page of their "white label" social network. Now I would think that one of the reasons that a company would spend thousands of dollars on social networking software and take months to customize it (vs. purchasing our premium services for a fraction of the cost) is to have complete and total branding.
In practice, if you choose software from KickApps, KickApps is in every URL and on every page. See the "powered by KickApps" here at the bottom of the Main page: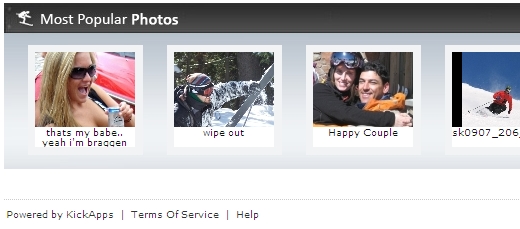 In every definition of "white label" I've seen, these references to KickApps should be hidden. If they can't be, then I'm not sure why Skinet is paying KickApps thousands of dollars. In contrast, it's free to have this footer on Wakefirst on Ning:

While Wakefirst is powered by Ning, we didn't feel the need to remind people on every single page. This is Wakefirst's show.
Sign Up Page
One of the things our Network Creators love to point out is that their members create a Ning ID at sign up (which has many benefits, I might add). We do highlight the fact – at least for the moment – that you are creating a Ning ID. Here's the Sign Up page on Wakefirst: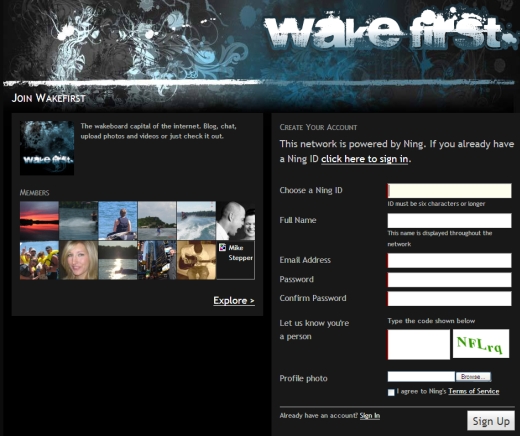 There is Ning branding here, but it's not overwhelming. The reference to the Ning ID is there to clarify that Wakefirst uses a shared authentication system with other networks on Ning. Otherwise, the page is branded for Wakefirst, with their members, description, and look and feel. The URL for this page is:
So what is the alternative if you pay thousands of dollars to get an exclusively "white label" offering? Let's look at the Sign Up page for Skinet: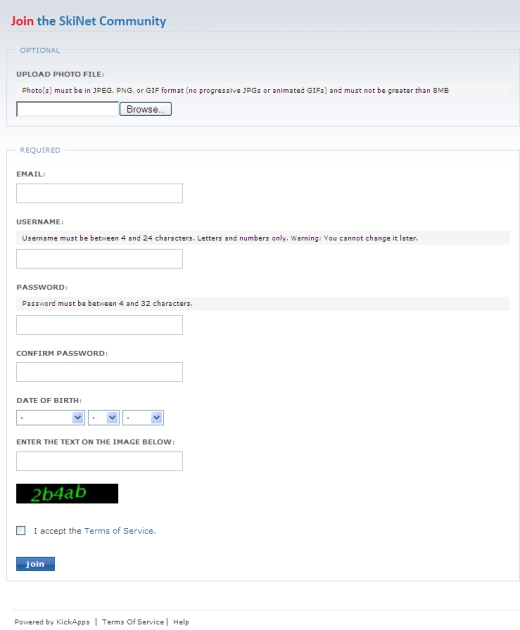 Note the "powered by KickApps" link and the Skinet Terms of Service, which extensively references KickApps. Moreover, look at the URL:

The difference between this "white label" Sign Up page and the Sign Up page on your free social network on Ning is surprisingly minor. In both cases, the provider is clearly marked.
The more pressing question is whether you want to pay thousands for slightly less branding than what you get with your social network on Ning for free. I'm not sure that it is worth it.
Profile Page
Ok, so this is less a branding point and more to show the feature and quality difference between a "white label" social network on KickApps and your own social network on Ning.
Here's Nick Murto's Profile page on Wakefirst: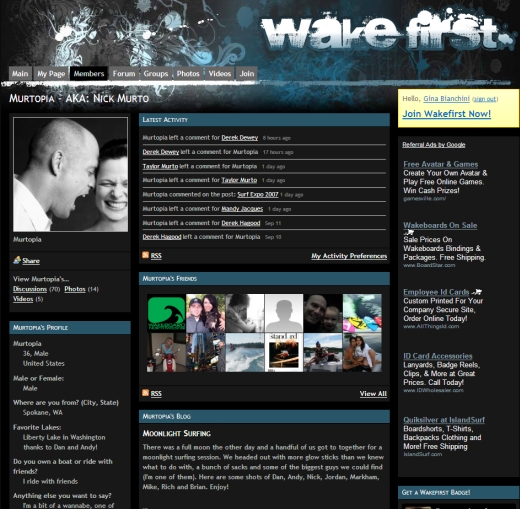 Here's Nick's Profile page URL:

In contrast, here's a Profile page for Fitskier, an employee of Skinet.com and member of the network: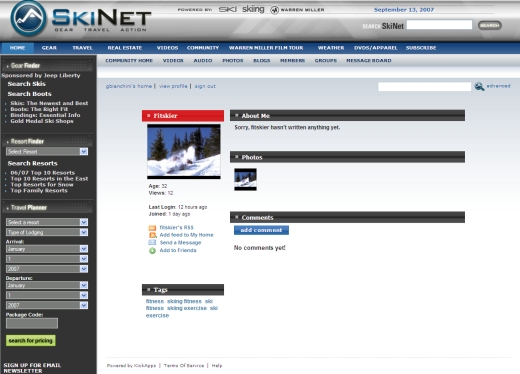 Here's the URL:
<ahref="http://community.skinet.com/kickapps/service/displayKickPlace.kickAction?u=1402267&as=6260&b=">

In addition to having KickApps in the URL, it doesn't exactly roll off the tongue.
Looking at these two profile pages, the differences are striking. The one provided by KickApps is limited and generic. In contrast, Nick's profile on Wakefirst is seamlessly branded, full of features, friends, and has a real-time feed of his activity on the network. Plus, it gives Nick the ability to blog, receive comments from other members, as well as pull in photos, videos, and music widgets from around Wakefirst and the web.
At this point, it's getting harder to tell which is the "white label" social network that costs thousands of dollars vs. the free, self-service social network you can upgrade with a credit card.
Badges & Widgets: Photos, Videos, and Music
At Ning, we are passionate about providing Network Creators with badges and widgets uniquely branded for their network. Branded widgets are a critical component to drive awareness and new members to a social network. Ning has offered branded widgets – uniquely watermarked and customized for each network automatically – for the past year.
On Wakefirst, there is total brand consistency between the photo slideshow and the video player. Nor are these the only options for embeddable widgets on Wakefirst. Here's the full set of widget options – all uniquely branded for Wakefirst – from the Badges & Widgets page: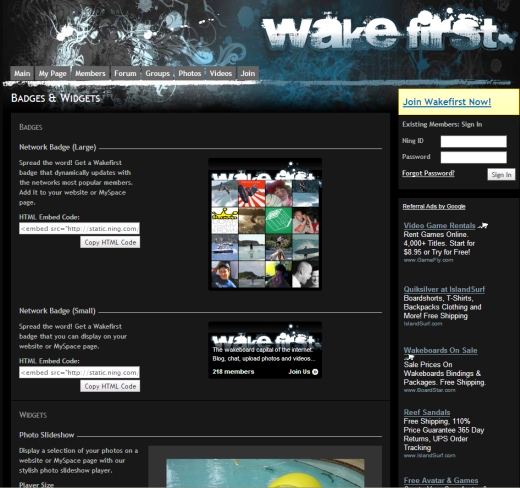 You can also add Wakefirst's photo slideshows and latest videos to Facebook with a few clicks from the Main page: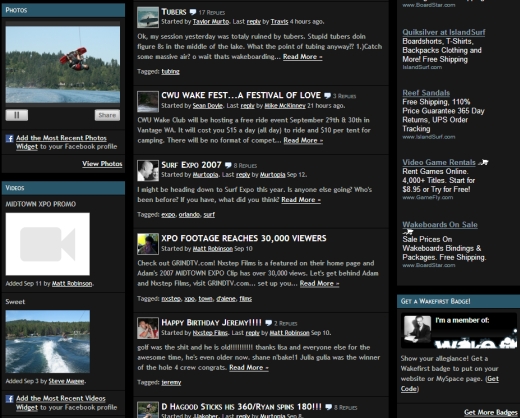 Skinet Players
I find this decision to embed one photo at a time odd. In a world with Slide and RockYou, I think that it's pretty obvious that people want dynamic photo slideshows, ideally ones that are branded for your network. One photo, albeit with flash bells and whistles around it, feels unsatisfactory.
For fun, click the blinking photo enlarge button on the toolbar. I would argue that this is either a bug or a feature that is not living up to expectations.
Skinet has none of the branded, viral features of Wakefirst, features that are a critical component to any social network in 2007. The differences between the two are striking.
Advertising on white labels
The fundamental reason to create a branded social network is to enable targeted advertising around that brand. In the case of Wakefirst, Nick Murto has paid us $19.95 per month to run his own Google AdSense ads. The results are incredibly targeted, relevant ads around wakeboarding put in place with a simple HTML code snippet from Google: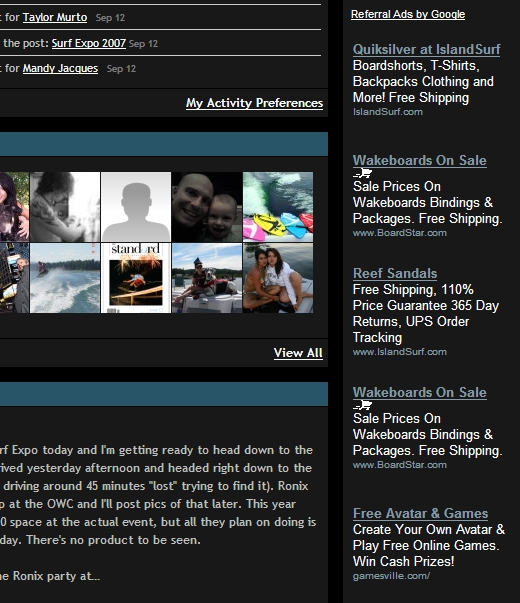 You can actually use any ad network you want, but the point is that the ads on Wakefirst are about wakeboarding. Now let's compare this to the indiscriminate banner ads on Skinet: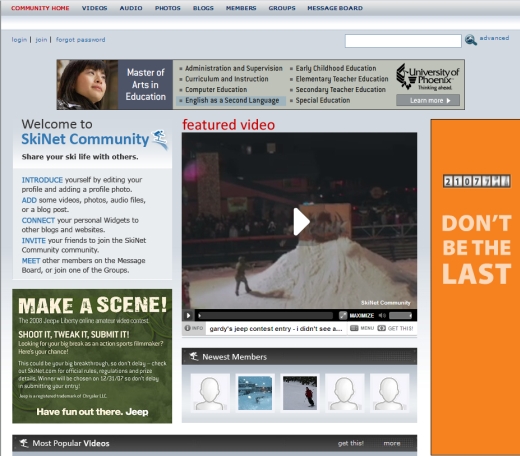 Skinet should be all about targeted, relevant advertising directed at people who are passionate about skiing. In 2007, there's just no excuse for blanketing a branded social network with remnant banners. A beautifully integrated sponsorship or even Google AdSense would not only create more of a compelling user experience but generate better advertising income for Skinet too.
Summary
There is no reason to spend thousands of dollars on a "white label" social network today. Even if you have the budget, inferior software that promotes itself as "white label" doesn't mean that you are getting better results than you would with Ning.
Here at Ning, we believe that by developing an incredibly flexible and customizable platform that puts your brand front and center; both individuals and companies can take full advantage of creating compelling, branded social networks.
Today you are competing for people's time with so many other places on the web that you have to deliver the most compelling social network you can. One with killer features and new things added all the time. Then it needs to beautifully and seamlessly integrate your brand into every detail.