EB Friends
Ning Network Spotlight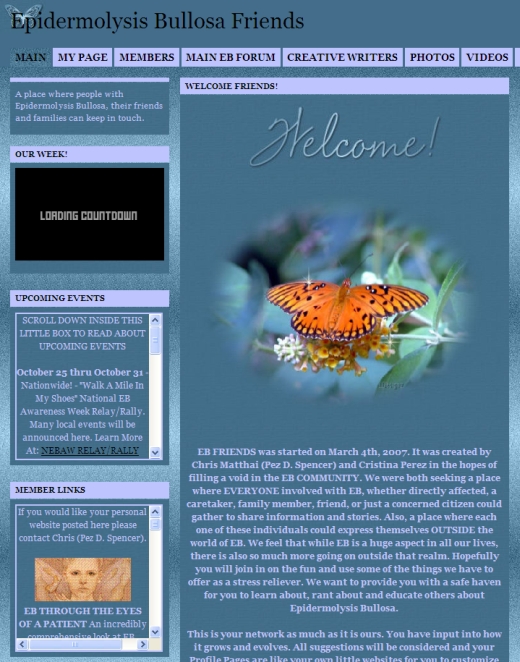 EB Friends is a social network for those affected by the skin disorder, Epidermolysis Bullosa. This is a rare disease, however EB Friends truly shows the power of the human spirit. As Pez D. Spencer, EB Friends' Network Creator (with Cristina Perez), writes:
EB Friends was created as a place of support for those affected by the skin disorder Epidermolysis Bullosa. Part of our philosophy is that laughter is the best medicine so while we respect the sensitive nature of this severe and sometimes devastating disorder, here at EB Friends we also incorporate fun, games and laughter to help lift spirits and reduce stress that is often so much a part of EB families' lives.
Not only is EB Friends a great community that offers support and connection, but Pez D. Spencer and the rest of the administrators do a fantastic job of making EB Friends a welcoming and supportive environment for all those who join. There are events for kids, a creative writing program, and other great activities.
We are incredibly impressed by the folks at EB Friends and are proud that Ning can provide the foundation for this type of connection.