And…We're Live With OpenSocial
Developer
Technology
Your Ning Network
Ok, so slight amendment to what we said about releasing support for OpenSocial later this year. We actually just released it a few moments ago across our now 115,000 social networks. Given how easy it was to create and roll out, we decided to drop this puppy into production today so people could start experimenting with OpenSocial now.
This means that you can enable OpenSocial "Apps" or "Gadgets" on your social network on Ning today. You can later use these same OpenSocial Gadgets – with minor tweaks – on MySpace, Orkut, Hi5, LinkedIn, or any other social websites supporting the OpenSocial standards when they release support later this year.
Here's a quick screencast which describes how to get started with OpenSocial Gadgets on your social network right now:
Enabling OpenSocial Gadgets on Your Network
To set up OpenSocial Gadgets on your social network on Ning, simply choose the Gadgets option from your Features page: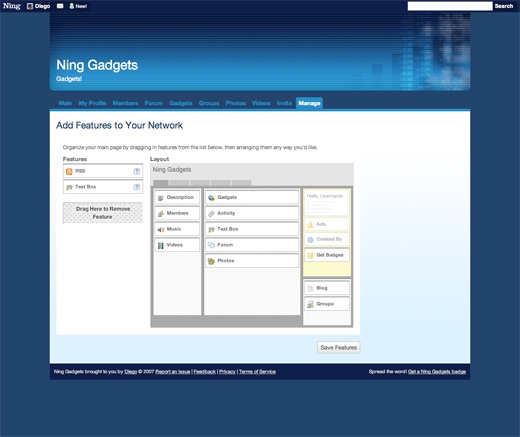 As a Network Creator, the choice to add OpenSocial Gadgets to your network is entirely optional. If you don't choose the OpenSocial Gadget option from the Features page, then your members will not have the option to add OpenSocial Gadgets to their profile page. It's up to you.
If you do decide to enable OpenSocial Gadgets on your network, your members can add any OpenSocial Gadget of their choice to their member profile page. You as the Network Creator can add an OpenSocial Gadget to your profile page and – idiosyncratically for the moment – it will also show up on your network's Main page.
We'll offer more granular options shortly that enable you as the Network Creator to separate out OpenSocial Gadgets from your member profile page and Main page. This is due today to most social networks being of the general, one-size-fits-all variety so they have no concept yet of controlling the Main page of a social network. We'll get this fixed shortly.
Choosing OpenSocial Gadgets
Now that you've enabled OpenSocial Gadgets on your network, click on the Gadgets tab to view a set of OpenSocial Gadgets you can add to your profile page: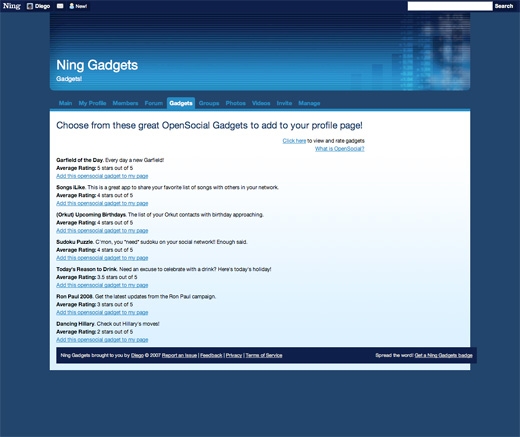 As you can see, here on opening day there aren't a lot of OpenSocial Gadget options, but there are a few with which you can start experimenting.
As new Gadgets become available, we've also created a directory for posting new OpenSocial Gadgets available to networks on Ning: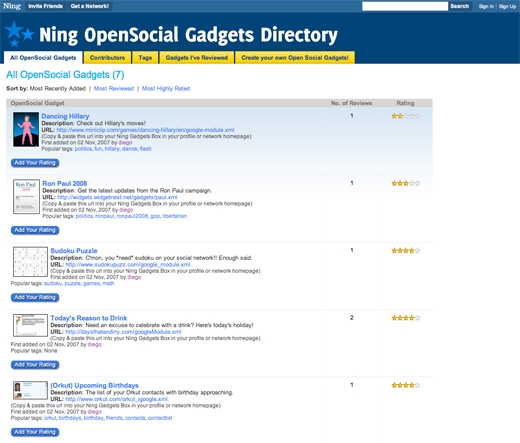 If you want to add your Gadget to this directory, drop us a note at the Ning Help Center.
Now, to add an OpenSocial Gadget to a profile page, you can do so by clicking on any of the links above or copy-and-pasting a URL into the field when you pop open the Edit button of your Gadget box. Here's what an example of iLike looks like on Diego's profile: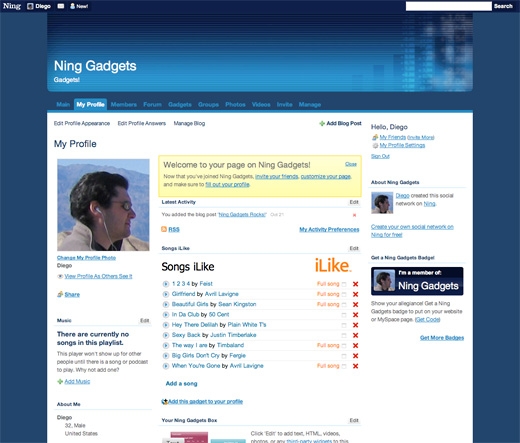 Developing OpenSocial Gadgets
To develop new OpenSocial Gadgets for any of the 115,000 social networks on Ning today, please visit the Ning Developer Network for documentation and support.
While this is definitely a beta release with a few idiosyncrasies and the inevitable set of bugs, we're proud to offer Ning as an early sandbox for developing and using OpenSocial Gadgets.
We look forward to your feedback!