CBS Mobile Zone: Mana from Heaven
Ning Network Spotlight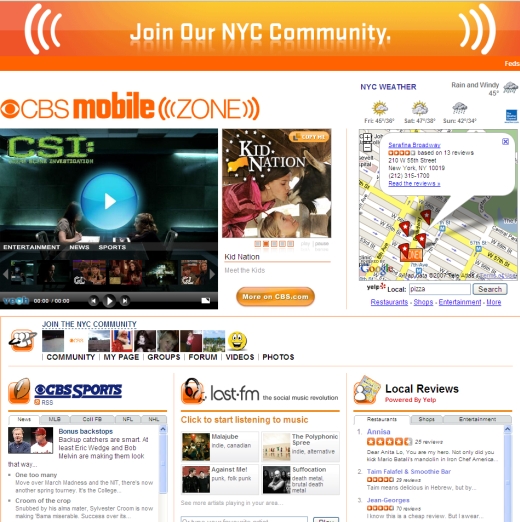 This morning CBS launched their CBS Mobile Zone – NYC, described in the press release as:
It will "light up" midtown Manhattan with the creation of the "CBS Mobile Zone," a wireless high-speed network enabling New Yorkers with Wi-Fi-enabled cell phones, laptops or other devices to access the Internet for free, and make voice over internet (VOI) calls.
The Wi-Fi HotZone, which is available today in certain areas, will be fully operational on by month's end with a footprint of more than 20 city blocks from Times Square to Central Park South and from 6th Avenue to 8th Avenue. This initiative is part of a 6-month pilot program with the Metropolitan Transportation Authority and New York City Transit to test the potential communications capabilities of Wi-Fi technology.
Beyond giving New Yorkers even more free and convenient ways to access the Internet – and therefore their social networks on Ning! – we also love the CBS Mobile Zone because of its website, which is powered by yours truly:
New Yorkers who access the "CBS Mobile Zone," will be greeted by an ad-supported homepage that includes hyperlocal content such as breaking local and national news, sports highlights, weather reports, music discovery, wallpapers, ringtones, maps, a social network and the ability to search for nearby restaurants, shops and entertainment complete with geographically- targeted community reviews. Citi and Salesgenie.com(TM) have signed on to be early sponsors of the Wi-Fi HotZone.
Yep – the CBS Mobile homepage is a customized version of a social network on Ning. This project validates Ning in two interesting ways:
1. It demonstrates the ability to fully integrate external services into and out from your social network on Ning. As most of you know, Your Own Social Network on Ning is completely customizable to be the exact thing you want. CBS Mobile Zone is a great demonstration of Ning's flexibility and programmability in the wild.
2. Companies can use Ning as easily as individuals. We've talked before about the artificial and unnecessary distinction between "enterprise" and "consumer" social networks, especially because Ning is a programmable platform for creating your own social network for anything. To us, "you" doesn't necessarily mean you have to be an individual. It's for anyone – or any entity – for any (legal) purpose. Even if you are The Man, you can create a compelling social network on Ning.
Give CBS Mobile Zone a whirl. It's fun and we love it. And a shoutout to our friends at Can-Do Entertainment who made this what it is. You guys rock.