Feed Me
Ning's Tips and Tricks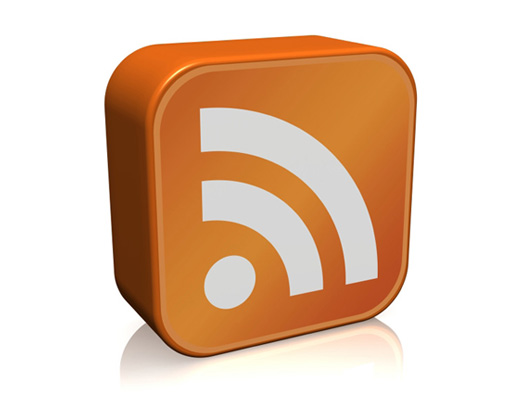 As Ning gets more and more popular, I think it's worth taking the time to revisit some basic concepts that many of our more advanced users take for granted. First up? Let's talk about feeds!
Feeds are a simple way to stay updated on information you care about. Most websites offer them in one of two flavors: RSS (which stands for "Really Simple Syndication") or Atom. Don't worry about the formats, they'll both get you where you want to go 🙂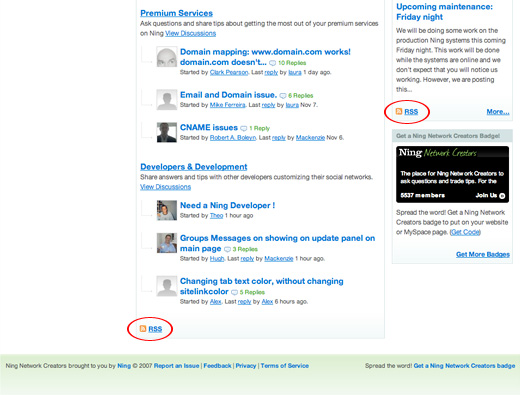 To find a site's feed, you'll usually want to look for a little orange icon or an "RSS" label. Depending on how your browser preferences are configured, clicking the RSS link will sometimes launch a page of fairly scary-looking code. Stay strong, it won't hurt you. What you need to do is paste the feed's URL into a "feed reader" application, which will make sense of the gibberish.

Some popular free, web-based feed readers include Google Reader, Bloglines and Newsgator. Many people also prefer to use the feed reading features built in to many popular "Start" pages, including iGoogle, My Yahoo!, Netvibes and Pageflakes.
The benefit? You'll always know when your favorite site is updated, and can also consume information from dozens (or even hundreds) of sources within the friendly confines of your feed reader. Think of it just like your email inbox. You're always plugged in to the latest information, and it all gets consumed in one easy-to-use location.
So what does this have to do with Ning? Well, we're into feeds in a big way. Every public network has feeds for just about everything, from Latest Activity updates to Forum discussions. If you belong to a social network powered by Ning, using a feed reader is a fantastic way to keep up with the action. If you belong to multiple Ning-powered social networks, feeds become even more useful.
But that's not all! In addition to following content, you can express yourself or your network by embedding RSS feeds from other sites onto your profile page (if you're a network member) or your network's main page (if you're an Administrator…just drag in RSS modules on the "Features" page). Some ideas to get the creative juices flowing:
A custom news feed for any topic area. Let's say you're a member of TuDiabetes. You might want to create a custom Google News feed to show the latest stories for the "Diabetes" search term.
Your latest photos on Flickr. Our feed modules handle photos as well as text-only content.
Items you've shared on del.icio.us (a popular Yahoo!-owned social bookmarking site).
Your status updates on Twitter or Facebook.
Entries from your blog on Blogger, TypePad, WordPress or MySpace.
Tracks you've listened to on Last.fm.
Movies you've rented from Netflix.
The sky's the limit, really. We're constantly amazed at the creative feed uses we see cropping up every day. Happy feeding!