Introducing Last.fm on Ning!
Ning Apps
We're pleased to announce that today Last.fm launched a killer "mini-experience" for the (at last count) 123,000 social networks on the Ning Platform.
Using Ning's support for OpenSocial, the Last.fm Gadget can be added in seconds to member profile pages (as well as your network's Main page).
If you'd like to try it out and haven't yet enabled the OpenSocial "Gadgets" on your network, just visit the "Manage" tab on your network, then click the "Features" option. Drag the "Gadgets" module onto your page and save your changes. You'll see a new "Gadgets" tab in your network's navigation bar. Click it and you're ready to add the new Last.fm gadget.
Once you've enabled the Gadgets Beta, go to your profile page and click on the link to view Gadgets. From the Gadget Directory, simply find the Last.fm Gadget and click "Add to My Page":
And that's it. It's pretty darn easy to start enjoying Last.fm's musical experience on your social network on Ning. Here's what it looks like on your profile page in the wild: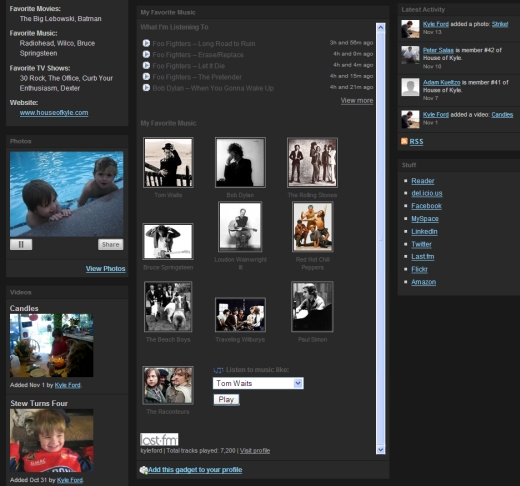 Notice that it takes on the colors and visual design of the network in which it is sitting. Another nice touch from your friends at Last.fm and Ning.
This is a great step forward for OpenSocial and we're psyched that Last.fm chose to showcase their support of it on Ning.