Stave Puzzle Nuts: Where the Tormented Gather
Ning Network Spotlight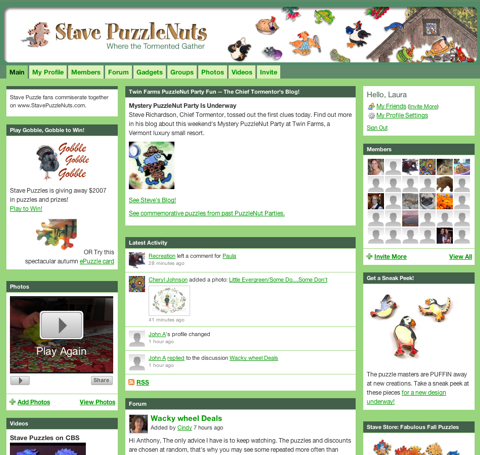 I don't know about anyone else, but I love games and puzzles. Usually I focus on the more word-related Scrabble or New York Times Sunday Crossword Puzzle. However, for the times when only something more tactile will do, I turn to jigsaw puzzles.
Lucky for me, I can now head to Stave Puzzle Nuts when I want to get my jigsaw fix. This is a social network on Ning for people who love jigsaw puzzles who want to trade tips and tricks.
One of the coolest features at Stave Puzzle Nuts is a Welcome Puzzle Card. It takes welcome centers to a whole new level.
This network does an excellent job integrating with the Stave puzzles website from background theme to contests. I have my fingers crossed that I can win my nephew a Stave Puzzle someday!